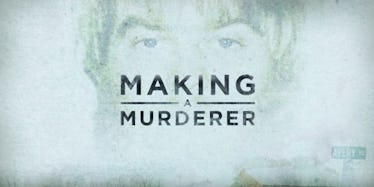 3 Cases Of Wrongful Conviction That Prove Steven Avery Is Not Alone
It seems as if the entire world cannot stop watching Netflix's newest hit "Making a Murderer."
Being the passionate wannabe lawyer I am, it's had me thinking about other injustices that have occurred of other wrongfully convicted innocent people who haven't had their stories told the way Steven Avery has.
I began doing some research, and found hundreds of cases where convictions have been quashed and the accused has been released for reasons varying from DNA evidence, false confessions, juror tampering and government misconduct.
The Innocence Project reports that among the causes of wrongful conviction, eyewitness misidentification is the most common reason this occurs.
This simple mistake has affected 70 percent of cases that have been overturned so far.
This surprised me, but when I read in to it, I found it made perfect sense.
It can be extremely easy to manipulate a person's thoughts, whether it's by subliminal messaging or blatant misconduct; it isn't very hard to change what someone thinks.
It is even easier when someone is vulnerable, the way a victim of sexual assault is, or the way someone desperate for closure might be.
In one particular case, a rape victim was shown a series of photos and asked to identify who her alleged rapist was.
She identified one of the photos, however it was later found that the photo had been marked with an "R," as this was the prime suspect in the investigation, while all other photos were unmarked.
It is this kind of deceitful manipulation that fuels what seems to be an innate desire for the police to secure a conviction.
Aren't we all here to uncover what really happened?
While it's terrifying to think we can be so easily manipulated by those whose entire life should be dedicated to protecting us, for me, the most heartbreaking aspect is the government misconduct.
How can we trust those who are there to protect us, provide us with our right to a fair trial and our right to be innocent until proven guilty, when cases like Steven Avery's and the cases listed below exist?
While our hearts are breaking for Steven Avery and Brendan Dassey, it's important to realize that there are other families out there who have experienced the same grief and trauma that comes from a wrongful conviction.
Here are just three examples:
Convicted: 1983 Exonerated: 2013
George Allen, Jr. spent 30 years in prison after being charged with the death of a young reporter, Mary Bell, in Missouri.
An autopsy showed that Bell had died from stab wounds to the back and neck. Evidence that was consistent with sexual assault was also found.
Allen had never been a suspect.
Police mistook him for their prime suspect and known sexual offender, Kirk Eaton, approached him on the street and bought him in for questioning.
Allen, a sufferer of schizophrenia who admits to being under the influence of alcohol, eventually confessed to raping and murdering Bell after being placed under duress by interrogators.
The primary evidence in the case was the confession paired with a DNA analysis of semen found at the scene that contained antigens which could not rule out Allen as the source.
Allen was convicted of capital murder, rape, sodomy and first degree burglary and sentenced to 50 years imprisonment, despite having three witnesses testify in favor of his alibi who said he had been snowed in at the time of the murder.
Allen was exonerated on January 18, 2013 on the basis of unvalidated or improper forensic science, false confessions or admissions and government misconduct.
The real perpetrator hasn't been found.
Convicted: 1988 Exonerated: 2005
Gibbs was tried for strangling a black woman to death, and leaving her body under a blanket near a Brooklyn Highway.
An eyewitness said he saw a white man with a black woman inside of a car parked near where the body was found while jogging through the area.
He said he saw the white man take out her body and lay it on the ground. The witness remembered that the white man was wearing red jeans.
Gibbs voluntarily participated in a police line up after it was found that he knew the victim.
Police had also found the red jeans that the perpetrator was allegedly wearing. Gibbs was ordered to try the jeans, but they did not fit.
Gibbs was also found to have a car similar to the witness' description, however, it had not been used for a significant amount of time and was inoperable with two flat tires.
During the trial, a state witness testified that he had spoken to Gibbs while he was awaiting trial in prison and that he confessed to the murder.
Gibbs was convicted and sentenced to 20 years to life imprisonment.
Nine years later, Gibbs contacted the Innocence Project, who also played a major role in overturning Steven Avery's first conviction in an attempt to prove his innocence.
Officials were unable to located his case file and noted that most of the evidence had been destroyed or was missing.
In a separate investigation, retired detective Louis Eppolito was being investigated on charges relating to organized crime. Gibbs' case file was found in his home.
During his retrial, the witness who testified to seeing the perpetrator retracted his statements saying that Eppolito had threatened his family if he didn't testify against Gibbs and recognized him in the police lineup.
Gibbs was later exonerated in 2005 on the basis of eyewitness misidentification and government misconduct.
Eppolito has been charged with eight murders and several other charges where evidence shows he was carrying out murders on behalf of the Mafia.
Convicted: 1971 Exonerated: 1979
Arthur Allan Thomas was tried and convicted of murdering a New Zealand couple in 1970.
Thomas was actually convicted a second time during an appeal after his conviction was quashed (as if once wasn't bad enough).
Inconsistencies in the evidence presented during the proceedings caused a major outcry in his small community, where he was a local farmer.
His wife and other locals started the Arthur Allan Thomas Retrial Committee.
The committee found that the report handed down by the judge who rejected his appeal for a retrial was inconsistent and partially inaccurate.
An article written for the local Aukland paper was rejected for publication on the basis that it was not the role of the journalist, or the newspaper to attempt question the State.
A Royal Commission Inquiry was set up, which revealed that police had planted a rifle cartridge case in the garden of the house which the New Zealand couple was killed.
Almost identical to Steven Avery's case, here the cartridge wasn't found until four months after what was described as one of the most thorough and intensive police searches undertaken in New Zealand.
The inquiry also found that the cartridge was clean and not corroded, meaning its condition was inconsistent with having been partially buried in a garden for over four months.
How a jury could overlook such an alarming find like this truly baffles me.
After spending nine years in prison, Thomas was released and his conviction was dropped.
Thomas also received $950,000 NZ compensation (equivalent to roughly $600,000 USD today).
Cases like these happen every day, and really goes to show that the US judicial system isn't always fair and just.
Without organizations like the Innocence Project to work tirelessly to help the innocent prove themselves, there would no doubt be many more innocent people locked up for crimes they didn't commit.