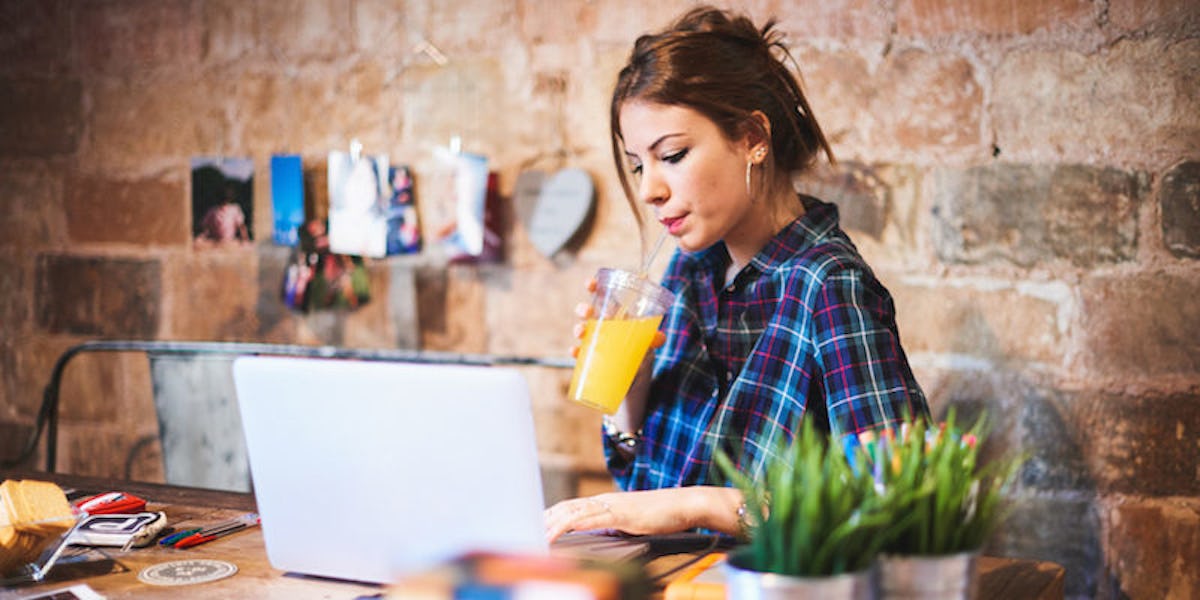 7 Bizarre Startups That Prove Your Idea Isn't As Weird As You Think
Is starting your own business a dream you've been neglecting?
Maybe you're afraid your idea is simply not viable. Perhaps you question whether or not anybody would really buy your product or services.
Well, don't be so quick to sell yourself short. If you're willing to make the effort and think creatively, you can turn even the strangest idea into a money-making startup.
If you have any doubts about this, check out this list of weird startups that have taken unique ideas and made them profitable:
1. Mix 'N' Match Creamery
If you watch the hit television show "Iron Chef," you may have seen one of the chefs use liquid nitrogen to create instantaneous frozen desserts. It's quite a spectacle to witness.
Eric and Genevieve West of Mix 'N' Match Creamery have taken this somewhat mad scientist approach to making ice cream, and have launched an ice cream truck based in Portland, Oregon.
Customers select the ice cream base (vegan-friendly options are available), flavor and mix-ins they would like.
Then, unlike with other ice cream vendors who simply dip out the pre-made stuff, this ice cream is made and mixed right in front of the customers' eyes.
2. Task Rabbit
The concept behind Task Rabbit is both simple and brilliant.
Most people have small tasks they need to accomplish, but would rather avoid. These might include running errands, assembling furniture, washing their cars or scrubbing down their homes after a major party.
There are also people who are strapped for cash and need a way to earn a bit of extra money. Task Rabbit is a matching service that connects people in the former category to people in the latter, creating a win-win situation.
Task Rabbit is open in 19 cities: Eighteen in the United States and one in London. There is even a virtual Task Rabbit for people who need help with computer-based tasks.
3. Strange Donuts
Strange Donuts engaged in an awesome guerrilla marketing campaign the year before it opened its doors. In fact, the company had extremely busy social media accounts before it had even fried a single ring of dough.
By doing so, it was able to create an enormous amount of buzz and anticipation. As expected, some of that buzz was quite skeptical.
Sure, the concept of uniquely flavored donuts served in funky spaces worked in Seattle. But would it work in a more conservative city like St. Louis?
Two years and three locations later, the answer is a resounding "yes." The proprietors of Strange Donut have also created a not-for-profit organization in order to do charitable work.
This provides credibility to its slogan, "Be strange, be nice."
4. Spud Pickles
Spud Pickles is an app development company based in Utah. It develops custom apps for individuals and businesses, and also helps them maintain those apps.
But that's not the weird part. Spud Pickles is also home to the Ghost Radar suite of apps.
These apps are used by professional and amateur paranormal investigators to detect what may or may not be paranormal activity.
These apps are incredibly popular, and members of the Ghost Radar community regularly visit the website to post stories and videos about their other-worldly encounters.
5. The Something Store
A little more than eight years ago, the founders of The Something Store had an idea. If anything could be sold on the Internet, why not sell "something?"
Most people would have laughed at the silliness of this idea and tossed it aside.
But not these folks. Instead, they ran with the concept and launched an e-commerce website.
The concept is bizarre, but it works. Customers place an order and pay $10. In return, they receive something.
The catch is they have no idea what they'll receive until they get it. The company simply guarantees the item will be brand new, worth at least $10, shipped for free and legal to sell in the United States.
It could be a kitchen gadget, an original piece of art, a clock or any other number of items.
6. Prize Candle
Who doesn't love giving candles as gifts? They're perfect for everyone, from coworkers to distant relatives.
Prize Candle is a company that manufactures and sells environmentally-friendly, soy wax candles, but with a twist.
The candles each contain a ring the customer can only access after burning the candle. The ring is attached to a prize code.
Each ring is guaranteed to be worth at least $25, but if the customer has a winning prize code, he or she is guaranteed a ring worth $5,000.
Since its inception, the product line has increased to include bath bombs and triple crown candles, which include three rings in each candle.
The possibility of winning a major prize is clearly a big draw, as these candles have become insanely popular as both gifts and personal purchases.
7. Diedinhouse.com
Have you ever wondered if anybody has died in your home? Have you ever wondered if your home was once used for meth-related activities?
If you have, you can get that information for $11.99.
Diedinhouse.com is extraordinarily popular among users who have experienced strange phenomena in their homes, or who have heard rumors about the activities of previous owners.
It is also used by customers who want to investigate a property before making a purchase.
The company was founded only two years ago, but it already has the ability to perform searches in all 50 states. Future growth plans include expanding to other countries.
What do you think? Does your own, off-the-wall business idea seem a bit more plausible now?
If you have any remaining doubts, remember that all seven of the companies on this list were started because the founders were willing to take a weird idea and build something out of it.
Why not take a chance on your idea and become successful, instead of letting fear, doubt and uncertainty cause you to remain stagnant?