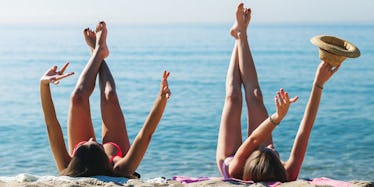 How To Plan A Spring Break Trip With Your Partner On A College Budget
Spring break may be even more anticipated among college students than winter break. We've been going hard for so long, and we deserve a break.
Sure, we got some R and R over Thanksgiving and Christmas, but it's not like we had a lot of fun. We went back home and sat around with family members, doing appropriate things like decorating trees or helping with dinner.
Spring break is the break of all breaks to let go and be free. Spring break is for all of us to abandon our responsibilities and live as wildly as we can before our week is up.
If you're a graduating senior like me, you're definitely counting down the days until you board that plane for an unforgettable experience and much needed time away. Some college students who are tied down might think it's perfectly acceptable to plan a spring break trip separate from their partners. But if you ask me, I think planning spring break with your significant other could be fun and beneficial for your relationship.
People don't want to be in a relationship where their boo isn't their ride-or-die. If you can't have fun alongside your SO, then what's the point?
Personally, I just finalized my spring break plans over a week ago. I planned it with my girlfriend, and we're going to have the time of our lives. If you just got into a relationship, have been in one for years or are in the middle of the two, here is how you can celebrate your spring break with someone special:
Step One: Budget
Money makes the world go 'round, and if you don't have it, you won't be going anywhere. I enjoyed setting a budget with my boo for our spring break trip because we were able to narrow down our options while still looking forward to going away.
Setting a budget is important because having money after spring break would be nice, right? Who wants to go broke after one week of fun? You still have an entire summer to plan for, after all.
If you can't afford a plane ticket, cruise or passport, then you know you have to scale down your preferences to locations that are accessible by train, bus or car.
When setting a budget, the most important things you and your SO should keep in mind are how much you plan to spend for traveling, lodging, eating and actually experiencing the place you end up. This first step is the hardest, but it makes everything after it so much easier when planning any kind of overnight trip.
Step 2: Make Your Checklist
Once the budget is set, you two can start brainstorming about what your ideal spring break would look like. Do you see yourselves lounging on the beach and soaking up the sun all week? Do you see yourselves exploring a new city? Think about what you do and don't want to be surrounded by.
For us, when planning our trip, we knew we wanted a chill, relaxed environment. Since we're both 21 years old, we wanted to be near bars. And being a same-sex couple, we wanted wherever we chose to have a welcoming LGBTQ+ environment.
It's crucial to think about your ideal environment so you won't set yourselves up for disaster by going to a family friendly place, when you don't particularly like the sounds of screaming children. Spring break is all about enjoying yourself. It would suck to pick a location where you don't see yourself doing just that.
Step 3: Pick A Location
This is the funnest part of the entire planning process. You've already set a budget and talked about what you want to do and what kind of places you see yourselves in, so now it's time to pick a destination to make your spring break fantasies come to life.
While budgeting your trip, maybe you and your SO realized you both could afford passports and airfare, so you two may start looking at private islands, international resorts or visiting a different country. Or, you two found a really great package deal to Cancun, Mexico. Maybe you two always wanted to see what all the hype is about in Los Angeles, so you're taking a road trip to Cali.
For us, we wanted to explore a new city that was far away with nice weather, so we chose Seattle. How you come to choose your spring break destination is up to the two of you. All that matters is once you picked your ideal location, you're ready to finalize the details.
Step 4: Seal The Deal
After all the budgeting, planning, list-making and arguing, you two decided where you want to go, how you'll get there and what you want to do once you get there. Now all that's left is to finalize the trip by buying those airplane tickets, reserving the hotel or Airbnb and, of course, updating social media on where you'll be going.
There are a ton of benefits to going on trips with your significant other. It strengthens your bond because you're experiencing new things together and growing from it. Plus, it's more stories the two of you get to tell to anybody who will listen, including friends, families, colleagues, co-workers, etc.
Spring break with your SO shouldn't be a horrifying idea to you. As long as you two communicate, plan effectively and stay excited, you'll have just as much fun (or even more) as you would have if you went with a group of friends.