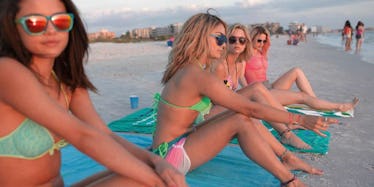 Why The 'Boring' Spring Break You Take In Your 30s Beats Any In College
REX
If I close my eyes, I can still picture the beautiful resort through my booze-altered vision. A week of drunken debauchery, spring break was one of those life experiences you never forget.
Fast-forward 10 years, and I was itching for another stress-free sunny week in paradise. With most of my friends from college married (and some with children), there was no way we were getting the band back together. Luckily, I had Lydia, my single partner in crime. When Lydia emailed me asking if we could go on a trip, I was already pulling my suitcase out of storage.
We went back and forth on where to go — Cancun, Costa Rica, Bahamas — and landed on Cabo San Lucas, Mexico. We found a deal that looked too good to be true on an adults-only, all-inclusive resort. (No kids splashing me in the pool? Yes, please.) 
Since I live in Los Angeles, Cabo was a quick two-hour flight. Luckily, Lydia, who lives in New York, didn't seem to mind the six-hour flight she would have to take. (In actuality, she wasn't too thrilled about it, but she didn't realize how far it was until it was too late. #FirstWorldProblems.)
Getting in the spring break mode, Lydia sent me an email with our Cabo goals: drink all day, have sex and get tan. That all seemed easy enough. We started a countdown and created our own hashtag to mark the occasion (because all events need a good hashtag).
The trip couldn't come fast enough. A week before, I went into diet mode, yearning for my abs to emerge just in time for me to slip into my bikini.
"This seemed to work better last spring break," I thought the day before I left. "Maybe I should pack a one-piece, just in case." So, I went out and bought my first one-piece since I was a child. And no, it wasn't one of those super sexy, I'm-still-practically-naked one-pieces.
We arrived at our resort in Cabo and took in the scene. The weather was beautiful, the place was stunning —white stucco buildings, cascading waterfalls and infinity pools throughout — and the resort was completely empty. We did a walk around, went down to the pool and checked out the beach. Yet, there were no partying 30-something men to be found. Did the memo that adult spring break was going to be the week of May 1 not get out?
We immediately put on our suits, sprayed ourselves with some SPF 15 and got to tanning. A waiter who barely spoke any English luckily understood enough that we wanted cocktails ASAP. Drunk and happy, we returned to our room later, our skin already burned. Back in college, if I broke out the SPF 50, Lydia would have thrown it across the room. This time, however, we realized we should probably be more responsible with our skin care.
The next day, we got out early (sunscreen properly applied) and set up our lounge chairs. As we relaxed into our chairs, a hyped-up group of entertainment staff came over and asked us if we were going to participate in a game of cornhole. These two entertainment staff members were the only young men we had yet to see, so we accepted their offer.
After a sub-par game of cornhole, swim aerobics was next on the docket. It may not look super cool, but it sounded fun, as did archery, cooking lessons, water volleyball and yoga. There were no wet t-shirt contests or beer chugging options, so what were we to do?
After a day of activities, we were beat. I mean that in the sense that we were freaking exhausted, and even with SPF 50, we were beet red. We dragged ourselves to dinner, and with both of us struggling to keep our eyes open, we put the idea of having a crazy night on hold. The event staff was going to take people into town on Wednesday night, and that would be our big, wild, spring break-style evening for sure.
The resort continued to stay — if I had to guess — at about a 10 percent occupancy rate for most of our trip. That allowed for us to meet almost all of the guests who were staying there. Lydia and I were unique in that we were literally the only non-romantic couple there. Besides for one married couple in their 20s, we were the youngest.
Although we were at least 10 to 20 years younger than most of the other guests, we found that we really enjoyed hanging out with all of them. 
"Was it too much to ask Debbie and Bob to have dinner with us? Do you think Phil and Leslie want to grab a drink at the bar? I want to hear about Debbie's children."
Wednesday night came, and we were both ready to go into town (or so we thought). We gave each other one of those "Are you thinking what I'm thinking?" looks, and Lydia and I both confessed we were really tired and didn't have the energy to go out that night. In all honesty, we both wanted to get into our beds and read our books. Breaking the cardinal rule of spring break, we decided to stay in.
The next day at the pool, both of us needed a break from drinking (another spring break no-no). It was time to accept that things are, in fact, somewhat different. We're not 21 anymore, and that's OK.
It doesn't mean we're not fun, or we can't have fun anymore. It's just the definition has changed slightly. We like tequila, but not six shots in a row. I would have been embarrassed back then, but on karaoke night, I gladly sang my heart out to Madonna's "Vogue" with my new best friend Bob, a 60-year-old with a strong New York accent.
When our trip ended, both Lydia and I were borderline depressed that we had to go back to reality. We flipped through our photos from the week on our way to the airport, trying not to let the vacation slip away. This was a familiar feeling.
Just like our spring breaks in college, we were going to miss the experience greatly. We took with us the memories and stories that we'll talk about for years to come.
Oh, if anyone asks, we totally got wasted and had sex with, like, so many hot guys.