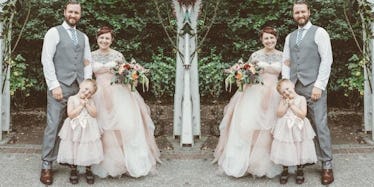 This Bride and Her Son Awesomely Wore Matching Pink Fluffy Dresses to Her Wedding
Courtesy of RocknRoll Bride today, we met the newly married Lulu and Alex, whose Pinterest-worthy wedding was filled with adorable DIY details. But none so sweet as the fact that Lulu and Alex's young son wore a pink fluffy dress to mirror Mama's blush Vera Wang:
We reached out to beautiful bride Lulu, who told us how Max's adorable wedding look came about.
"When I was trying on my wedding dress at my parents' house, Max loved it. He fluffed up all the layers and danced around with me then said 'I want a big pink dress at the wedding too!'
I asked him, "Are you sure? You don't want a little dapper suit?" He said he was sure so I shrugged my shoulders and that was it.
I checked in with him again several times over the year. I showed him pictures of some dresses and suits but he always picked the dress that matched mine.
A month before the wedding, he made the final selection and we ordered it. The first dress was a hotter pink with lace on top and flowers. The week before the wedding one of my bridesmaids' daughters brought Max a different dress option that was fluffy like mine with a bow because she thought it looked like 'a sippy cup of champagne.' She was the flower girl and also had a lovely dress that matched mine.
Max loved it immediately and wanted to wear that one instead, which I didn't mind, especially since it matched the pink of my dress more.
I had a few random doubts, but they didn't last long. We had a small-ish wedding of 80 people so everyone we invited knew us and our family well enough not to care or to love it.
Max only wore the dress until just after the ceremony because he got too hot, and then he changed into shorts and a T-shirt, so we have pictures with him in both the dress and casual clothing. So when I pull out the albums for whatever partner he has at 15, they won't all be in a dress.
My parents had some hesitations, which surprised me since my mom has always been my 'Be true to yourself' cheerleader. I reminded them that when I was little I wore neon striped dresses, polka dot tights, and top hats, which embarrasses me now, but was exactly who I wanted to be then. They helped make me into a self-loving being through self-expression and I want to do that for my children.
Max is 5 now and a wonderful caring boy. He is always happiest when being himself and playing with his family.
When he was 2, during one of our evening chats before bed, we were talking about boys and girls and what made them different.
I told him that not everyone feels tied to what they were born with and that everyone can play with what they want. He looked at me like he had never even considered as an option that he was allowed to choose, which made me sad. He asked if he could wear girls' clothes if he wanted to. I told him, 'Yes, if you want to.'
He asked me to get him a pretty pink dress with flowers on it. So I went to the local Goodwill and found him a pretty pink dress with flowers. That night he twirled around the living room saying 'Im so happy, I'm so pretty' in a soft happy voice I have only ever heard from him when dressing up.
So I went and found all the dress-up clothes I could find, from princess dresses to pirate outfits. He often wears a mix of dresses and armor or Batman when dressing up.
He mostly wears his regular 'boy' clothes, but when I paint my nails, which is infrequent, he wants to as well. And several times a year he wears a tutu to school. I don't think he will be transgender, as he doesn't want to be a girl as far as he's told me. Most of it is just play. It wouldn't matter to me either way, though.
He mostly just loves to dress up and do what he likes to do. I just asked him how he felt in his dress on the wedding day and Max says he felt 'good, happy, and my dress was awesome.'"
Pine cones place settings and paper crafts aside, this family's decision to let their son be himself on their big day is the most innovative and inspiring part of this wedding.
For more photos of the beautiful wedding, check out RocknRollBride and Hazelwood Photo.