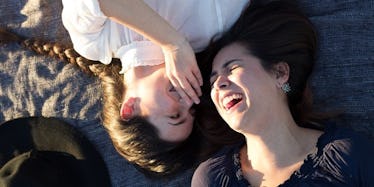 6 Dates To Go On With Your Sister Before You Go Off To School
Luca Pierro/Stocksy
For those of you who consider your sister to be your best friend in the whole world, you'll probably want to make the most of your time with her before going off to school in the fall. Saying goodbye to summer is bittersweet all on its own, and if you're parting ways with your sister for the time being, it can be that much harder. When you're heading off to your freshman year of college, it's the very first time you and your sis won't be living together. It's definitely a difficult adjustment, which is why you need to seize all of the time you have together. The best sister dates to plan over the last few weeks of summer are the ones where you're having so much fun that those memories can hold you over until you're reunited again over winter break.
Use your sister dates to also take advantage of the time you have left in your hometown. You certainly have a lot to do before heading off to school, which is why making a bucket list of all of the things you want to do with your other half is crucial. Here are six sister dates that are good for making the most of your time, but also will leave lasting impressions. Be sure to take your camera wherever you go, so you can fill up your dorm room with amazing pictures that will always make you smile.
1. Go On A Fun Food Tour
You'll miss all of your favorite foods from your hometown when you're off at school, so use this opportunity to eat everything you love one last time with your sis. You can make a tour out of it by mapping out all of the places you want to go to, and scheduling how you'll get to them all in one day. It's two of the greatest things combined into one fun activity; your sister, and a fun foodie adventure.
2. Go Shopping For Fall Clothes
You'll need new clothes for the school year, so go on a shopping date with your sister to the mall, or head over to your favorite boutiques in town. You both can take advantage of the great back to school sales. You could even make it more fun by picking out outfits for the other to wear.
3. Have A Sister Sleepover
Pretend like you're little again and have a sleepover. You can gather all your favorite movie snacks, have a marathon of all the nostalgia-heavy movies, and build a cozy blanket fort in your living room. Your parents will feel like they went back in time, because you'll both be acting like you're kids again.
4. Go Through Old Photos, And Take Some New Ones
Find all of your old photo albums and go through them with your sister. You both will laugh at how silly your outfits were, and how different Mom and Dad looked back in the day. You can scan some of these old photos to store on your phone for later use, and also snap some new ones. When you're missing your sister while away at school, you'll have a ton of photos to post on Instagram for a solid #TBT.
5. Start A New TV Show Together
Find a show you've both been wanting to see, but haven't gotten into yet. Watch all of the available seasons. If you find a show that's coming back in the fall, you guys can catch up now, and then have something to talk about later when you're away. Your weekly phone calls to each other can be all about what happened on the show each week.
6. Do DIY For Your Dorm
You'll need cute decorations for your dorm room, right? You and your sister can spend a whole day working on DIY projects for your new dorm room. You'll have something nice to make your new digs unique, and you'll also be reminded of the fun times you had with your sister every time you look at it. That's a win-win if you ask me.