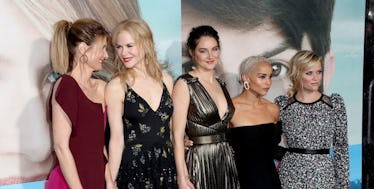 Shailene Woodley Debuts New Hair At The 2017 Emmys & Matches Her 'BLL' Castmates
Getty/Frederick M. Brown
In a shocking show of unity with her fellow Big Little Lies castmates, Shailene Woodley went blonde for the 2017 Emmy Awards. Woodley started sporting lighter, highlighted locks earlier this summer, but now she is 100 percent platinum, on the same very-blonde level as her famous costars Reese Witherspoon, Nicole Kidman, and Laura Dern. Woodley clearly looks absolutely smashing in the light shade, but who else is wondering if momma-bear Witherspoon had anything to do with the dye job?
Big Little Lies premiered back in February, and at the time, Woodley was the only non-blonde lead role on the show. Even Zoe Kravitz, whose character Bonnie sports long, dark locs on the show, was blonde as the show aired and up until recently. The novel-turned-mini-series is nominated for the Outstanding Limited Series award tonight, and Kidman and Witherspoon are facing off against each other in the Outstanding Lead Actress in a Limited Series or Movie category. Woodley and Dern go head-to-head in another division, the Outstanding Supporting Actress in a Limited Series or Movie group. Essentially, the ladies are competing against their costars, which suggests the idea that the kumbaya-singing Woodley may have wanted to unify and represent her squad.
Here are the actresses at the Big Little Lies premiere in February. Woodley's brown hair sticks out like a sore thumb.
And here she is today in Los Angeles for the 2017 Primetime Emmy Awards, looking like a boho '70s siren. The buttery hue pops against her hazel eyes and plunging emerald green gown.  Those pale streaks around her face? Slay, Shailene, slay.
When asked by an interviewer about her fave beauty product, Woodley did not mention her blonde hair or a deep conditioning mask. No, your favorite vagina-sunning naturalista cited "happiness" as the best way to score red carpet confidence.
Woodley is naturally gorge, so she can pull off any hair color with panache. And as far as going blonde, she didn't suddenly hit the bottle (of bleach, that is). No ma'am, that usually spells damage for a natural brunette, and Woodley is too savvy to make that mistake. She's been slowly lightening her hair since May, rocking the dirty blonde hue seen below.
But when she arrived with newly-lightened locks today, fans on Twitter have much to say about the color shake-up, with overwhelmingly positive reactions.
Earlier today, Woodley let fans inside the magic of getting ready for the Emmy's with a picture posted to her Instagram account. "It takes a village," Woodley captioned her behind-the-scenes Instagram shot, in which two people are seen assisting Woodley get into her velvet gown. She manages to make that still look fabulous, with her gold glitter stilettos sparkling underneath.
Yesterday, Woodley shared a meme of her and castmates Laura Dern and Reese Witherspoon. "Prepping for the Emmy's like," is the caption, while the image borrows a classic scene from the show: the ladies running stride-by-stride on the beach.
The spirit of that shot could reveal why Woodley went blonde. As a book and mini-series, Big Little Lies is a stylish soap opera set upon a beautiful coastal backdrop. The complex, interwoven plot lines tackle many issues affecting women, including domestic violence, cheating, and extra-marital affairs. But the intimacy of female relationships is arguably the most central theme.
Woodley's character Jane is a young mother and rape victim who relocates to an idyllic California town and is immediately adopted by Witherspoon's meddling character, Madeline. Of the women's scandal-tested relationships, Woodley told the LA Times, "The pain was still there, the trauma was still there, the fear was still there and present amongst all of these women, but what they had was a unity and a trust and a respect and a certain reverence for each other... It felt very hopeful to me to see all of these women show up in their own way, with their own stories and their own histories and their own belief systems that are all very different, and yet choose no matter what to be an ally for each other, to be a sister for one another."
It's nice to see that supportive attitude trickle over to the red carpet, even if it's just flaunting your squad's signature hair shade.