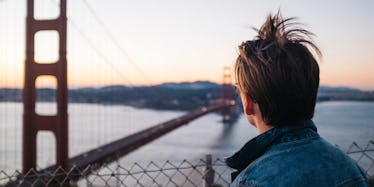 4 Ways To Save Money That Don't Involve Staying In Every Friday Night
There's no doubt about the fact that some of the most desirable places to live — New York City, the Bay Area, Boston, Seattle — are also the most expensive. I recently wrote about not letting money hold you back from moving to your dream city, and I now wanted to share more about stretching your dollars when you do take the plunge.
After deciding that hundreds of thousands of dollars in medical school tuition wasn't for me, I entered the workforce in San Francisco. For the first time, I was fully responsible for and in control of my finances, and it took me a while to find my way.
Here is my personal philosophy, as well as a few tips when it comes to managing your finances in a big, expensive city:
1. Keep it simple.
For me, this mantra applies to everything from managing my finances to deciding what to purchase, to making trade-offs between necessary buckets of spending. I'll focus here on those trade-offs, and I'll come back to the operational part of money management later.
One of the larger decisions I made when moving to San Francisco was whether or not to buy a car. I considered the fact I was living in a neighborhood with free and safe parking. I had also just moved to a city surrounded by amazing escapes; hiking, wine country and snow are all within a few hours of San Francisco.
On the flip side, I would have had a car payment and auto insurance premiums, which would cost a significant percentage of what I was making each month. Not to mention, I would also have to move the car around according to street cleaning schedules.
After a few weeks of living in the city, I ruled out the idea that I would ever use a car to drive to work, leaving me with weekend trips and errands. For errands, I knew I could use a taxi, Lyft or Uber. For weekend trips, car sharing services like Getaround, Turo and ZipCar all offer affordable car rentals through a simple app.
I figured the all-in cost for a car would be around $400 dollars per month (payment, insurance, gas), while renting a car would total about $50 dollars a day. I could theoretically take a weekend trip every weekend and still pay the same amount as owning a car, but with the saved hassle of no parking tickets and no time spent on moving the car. Not to mention, I realistically leave the city maybe once per month. For my situation, the answer was clear: no car.
To be sure, that's certainly not the solution for everybody. Figure out what can simplify your life and, in turn, your finances. If you do need a car, make sure you're not overpaying on insurance. I know a few people who love Metromile, which allows you to pay by the miles you drive. And if you're only driving on weekends, maybe less than full coverage is enough. After all, the average driver files an accident claim just once every 17.9 years. In addition to transportation, think about your other big expenses and the trade-offs you're willing to make.
For me, this looks like living with housemates rather than on my own, something a lot of people in cities do to pay far below market rates. In San Francisco, for example, one unit is estimated to cost more than $4,000 per month, but given I live with housemates, I'm paying less than $1,500.
The bottom line? Figure out which trade-offs you're willing to make and know what's important to you.
2. When you do spend, spend smart.
I was lucky to be raised by very money-conscious parents, so things like squeezing the last bit out of a tube of toothpaste and never ordering appetizers come naturally to me. But, there are a lot of other small things that can add up when you're responsible for all your expenses.
Many online retailers will give you some sort of welcome bonus for your first purchase, so do some digging before checking out. Run a Google search for promo codes for that site, and try signing up for its email newsletter. (The first one will often come with some sort of discount code.) If it's a product sold on multiple sites, compare prices to find the best one.
Next, shop around for different services rather than going with the same one each time (another trade-off I am willing to make to save money). Let's take hair cuts, for example. For me, it's not worth it to pay $80 dollars or more for someone to trim my dead ends, so I usually buy discounted haircuts on deal sites like Gilt City. The same goes for fitness classes, house cleaning, theater tickets, you name it. In cities with a lot of competition between local businesses, deals don't necessarily mean the offering is inferior. Rather, it means the business is experimenting with new ways of acquiring customers its competitors may not have explored.
Lastly, make a point of exploring the service-oriented startups that have launched in your city, whether they offer food delivery or dry cleaning on demand. These companies often offer great sign-up bonuses, so you can try their services for close to (or completely) free. Even after your promo credit runs out, these services are sometimes less expensive than the non-tech alternative, so it's good to know all of your options. In addition, they'll typically offer decent referral bonuses, so once you find the ones you love, share them with your friends to get even more money off.
3. Put things on autopilot.
This applies to everyone, but I found it particularly important when I moved to a busy city and had much less spare time for personal admin tasks than before. Technology offers a number of solutions for operationalizing your finances, so take advantage. By spending a few hours setting things up, you can earn money on rewards and avoid potential late fees, and save yourself the mental bandwidth spent on keeping all your bills in order.
Here's a favorite autopilot trick for my money: I put every purchase I make, as well as many of my bills (electricity, Internet, etc.), on a rewards credit card. Then, each month, it gets automatically paid off in full. By linking my credit card to my checking account, I never worry about missing a payment and getting hit with late fees. At the same time, I'm building my credit and racking up hundreds of dollars in rewards.
Since my landlord doesn't accept a credit card for rent payments, I instead set up an automatic payment from my bank account. Some checking accounts allow you to do this for free. I've even set up calendar reminders for my roommates to pay me rent each month, so they do so without needing a reminder.
In terms of savings, my 401(k) contributions come directly out of my paycheck and others (such as investment accounts) are automatically deposited from my linked checking account. If you're not sure just how much you'd like to be auto-debiting out of your account, check out Digit or Acorns, both of which take your spare change out of your checking account and either save or invest it.
4. Have a little fun.
While I am conscientious about my spending and saving, I don't obsess over it. I don't set budgets with strict guidelines, and I don't use an app to track my spending. But, I do contribute to a retirement account, and I earn more than I spend (according to my bank account ... on most months). I have a ballpark idea of what I can spend per month, and since most of that goes on a credit card (see above), it's easy to check that balance every so often.
This definitely isn't the best strategy for everyone. Maybe you track every cent. That's fine, as long as you budget in some wiggle room for fun. When I do spend a little money that's outside the basics, I like to think of it as an investment in myself, whether it's paying for drinks to network with new people, new clothes for my professional life or dinner at a new restaurant.
It's all about balance, both in your finances and in being able to appreciate the exciting city you've chosen to live in.