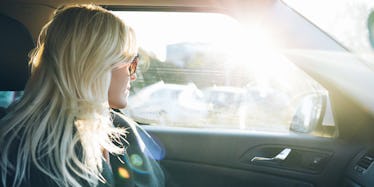 12 Road Trip Hacks That Will Save Your Sanity During Holiday Travel
Don't just hit the open road this season. It's time you learn how to turn your ordinary car into an adventure on wheels.
Coming from someone who's driven across state lines and country borders like a fugitive on the run, I can tell you road trips tend to get pretty old really fast.
In fact, anyone who's driven a car for more than two hours will tell you it's not all windblown hair and sunshine.
That's why I've made it my mission to put together a list of 12 road trip hacks that will help you handle the holiday traffic and miles ahead.
So, no matter where you're traveling this season, these tips and tricks are sure to keep you safe, sane and riding in style.
1. Make pit stops.
First things first: Map out your drive and locate nearby spots you'd like to stop at along the way.
We've got to stop thinking about road trips in terms of time.
The goal of a road trip isn't to get from point A to point B the quickest. That's what planes are for.
The beauty of a road trip is to enjoy the journey.
Plus, by stopping a few minutes every two to three hours, the trip actually seems to go by faster because you have things to look forward to along the way.
2. Drop a pin.
That being said, when exploring new places on foot, be sure to drop a pin in your maps app if you're leaving your vehicle for an extended period of time.
The only thing worse than being cooped up in a car all day is being stranded outside because you lost said car.
3. Make sure you're insured.
Here's a little road trip 101 for you: Never hit the road without coverage because you never know when the road will hit back.
Check out websites like The Zebra to compare quotes from every top car insurance company in seconds. If you didn't think roadside assistance was worth the extra cost, think again.
I can tell you from personal experience, nothing will turn a road trip sour faster than breaking down on the side of the road without the proper tools.
4. Get a gas app.
Find the cheapest gas prices on your route with apps like Gas Buddy. They'll show you where to find the lowest gas prices around to help you save every time you fuel up.
Extra pocket change makes everybody happy.
5. Know when to sit or squat.
Apps like Sit Or Squat will show you where to find clean public restrooms.
With Sit Or Squat, nearby restrooms are color-coordinated: green for those that are the most sanitary and red for those you might want to avoid.
The app allows you to search, view and rate restrooms so you can enjoy the go, on the go.
6. Go hands-free.
Of course, what's the point of organizing all your travel essentials on your smartphone if you lose it 10 minutes into the trip?
Cars, much like couches, tend to play hide-and-go-seek with our phones.
This is why I suggest investing in a simple tool that will secure your phone to the dashboard like a magnet.
7. Create new playlists.
Create a playlist of brand new songs (or at least songs you're not tired of yet).
Create a holiday playlist to get you in the spirit, a pumped-up playlist for those jam sessions in the car and a mellow playlist that helps you focus on the little things.
With each one, add songs you don't already know the words to.
It'll give you something to do while driving.
8. Invest in a radio adapter.
If you don't already have an audio hookup, you're definitely going to want to invest in an all-in-one radio adapter.
Certain FM transmitters allows you to charge, talk and play music on the go.
The less you fumble with your phone, the safer everyone is on the road.
9. Organize your essentials.
Use a shower caddy to keep all your car essentials in one clean place.
The benefits of keeping your essentials in a caddy versus a travel bag are you don't have to dig to find what you need, and you don't run the risk of something leaking.
10. Keep it clean.
Use a cereal container and a plastic bag as a spill-proof trash can.
Trust me: There's nothing worse than arriving at your destination with a car full of garbage, stains and conspicuous smells.
11. Be prepared.
Make sure your car has an emergency kit.
Hopefully you won't need to use it, but it's best to err on the side of caution when traveling.
Bridgestone and AAA sell various types of road kits, containing everything from booster cables to first-aid kits.
12. Have an exit strategy.
Knowledge is power, and knowing what exit signs are positioned according to which side of the road you're exiting on is extremely useful.
So now, you don't have to cut across three lanes in two seconds with a trail of cars honking behind you.
You're welcome.