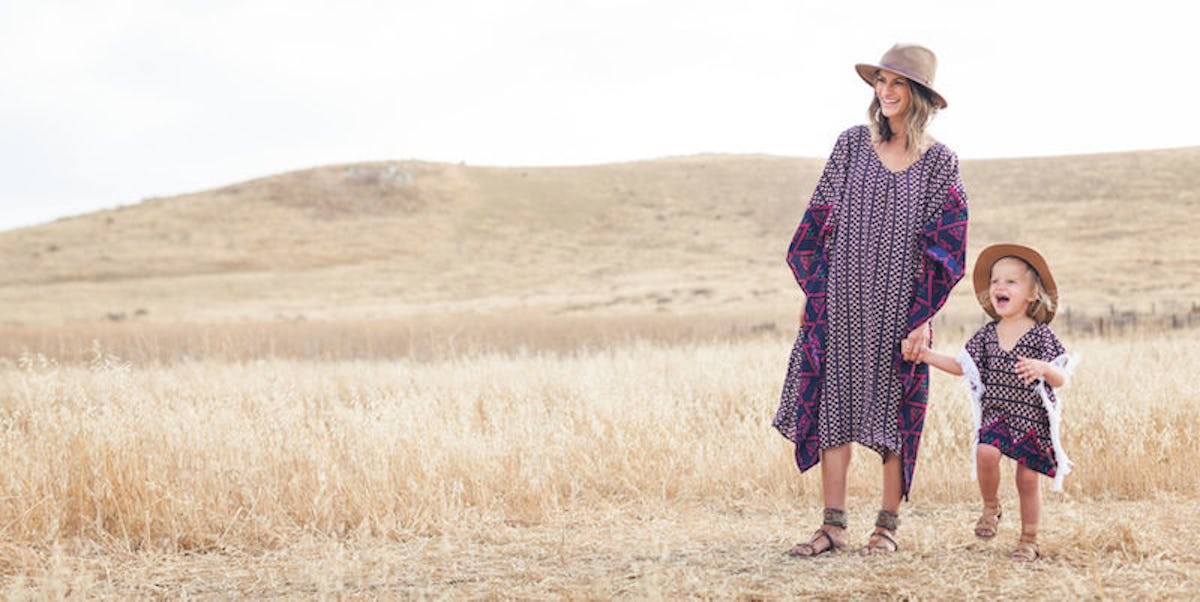 13 Stores That Will Help You Revamp Your Wardrobe After Having A Baby
Robert Zaleski
Being out of shape was never an issue for me. I wasn't "supermodel skinny," but I could wear tight clothing without showing any unwanted bulges and still feel confident. 10 years and two kids later, I find myself in unfamiliar territory. My post-baby body looked different. My old wardrobe was not as flattering as it once was.
Like many other moms, after baby number two arrived, it was yoga pants and oversized sweatshirts 24/7 for me and living with the frustrating knowledge that most of the clothes in my closet were either too loose (maternity wear) or too tight and uncomfortable (pre-pregnancy outfits). By the time I was ready to go out in public again, I was super nervous people would comment negatively on how I looked, and I was right to be worried. They did make comments.
"When are you due?" or "You look … tired," were common comments. This roughly translated to "Your clothes are unflattering and you look fat." Embarrassed and annoyed, I realized how important my wardrobe choices were, the impression my look made on others and the real message I was sending through my clothes. My post-baby wardrobe was sending the message that taking care of myself was no longer a priority.
I decided to make a change. Even with a "mummy tummy" and huge boobs from breastfeeding, wearing the right outfits with the right fabrics made all the difference. Not only did I look thinner, but also my confidence soared and I felt great. All I had to do was revamp my wardrobe.
I know I'm not the only mom who feels this way. We want to feel confident with ourselves post-baby, and we deserve to be. Instead of stressing ourselves out trying to lose weight fast, a quick solution to feeling great is simply in the clothes you wear.
Here are 13 retailers that will provide you with must-have pieces for looking slimmer and feeling confident post-baby:
1. Banana Republic
Fabulous Find: Get an everyday chic look with this layered shirt and sweater.
What It Does: Layering a shirt with a thin sweater will definitely tame your tummy. The style is comfortable and versatile. You can pull off wearing this look at work just as easily as when you're just hanging out.
Why You Need It: Keep your mama style fresh! Layering smooths away bulges, without adding bulk. This outfit's a hero; it will look just as great on when you get your body back.
2. Bloomingdales
Fabulous Find: This modern open blazer will have you ready and prepped to get back to the office.
What It Does: This blazer conceals your flaws without looking like it's "trying too hard." By adding structure to your shape, you can always feel comfortable and put together at work.
Why You Need It: The sleek and tailored fit will refresh your wardrobe while guaranteeing a slimmer silhouette.
In addition to this great blazer, Bloomingdales carries a Shapewear line that will help you look smooth and sexy no matter what your current size is. With the right coverage, anything you wear on top of it will look 100 times better. Wearing the right shapewear is always a confidence booster. It will draw attention away from your "flaws" while emphasizing your assets.
3. Dressbarn
Fabulous Find: Their Signature Lux Bootcut Jeans are amazing.
What It Does: Pair these curve-hugging jeans with a flowy top to create visual balance and look thinner from head to toe.
Why You Need Them: This is the ideal alternative to wearing yoga pants 24/7. These jeans of your dreams are versatile, too. You can dress them up or down with the help of accessories.
4. Express
Fabulous Find: The Summer Cami is perfect for every body type.
What It Does: This top is a true tummy hider. The looseness around your middle will add comfort, while still looking chic. This is a great everyday look, whether you're hanging around at home or out with your girlfriends.
Why You Need It: It's flattering in four different ways:
1. A dark base color is always more slimming than anything bright and vibrant.
2. Vertical stripes down the middle help to visually lengthen your upper body.
3. A flowery pattern distracts from problem areas.
4. The fabric itself skims, rather than hugs your body making you seem thinner overall.
5. Diane von Furstenberg
Fabulous Find: Rock this perfect wrap dress and get your Kate Middleton on.
What It Does: This dress is adjustable no matter what your size, so it will work well whether you lose or gain weight. The v-neck wrap-top makes it a great outfit for breastfeeding mamas.
Why You Need It: This design in particular slims on top with the black color, and lengthens your body with the v-neck. It also pulls the focus down to the flowy, vibrant bottom, making this a ridiculously hot "go-to" outfit that's perfect for a date night.
6. H&M
Fabulous Find: This long, flowy dress with necklace detail is perfect for a night out.
What It Does: This flowy chiffon dress hangs off of your body and will make you look like a goddess, whether you're wearing it on a date or for a fun formal event. The necklace detail pulls the focus up. This look is a great addition to your slimming bag of tricks.
Why You Need It: It's monochromatic, which makes you look taller while creating the slimmest lines. It's easy to wear and is a comfortable go-to piece. And the accessory is built right in.
7. The Limited
Fabulous Find: The Lace Collar Trench Coat is exactly what you need.
What It Does: A coat like this is great for throwing on top of an outfit and hiding wobbly bits.
Why You Need It: The structured style will instantly give you a well put together look. A great piece to wear any time, day or night.
8. New York & Company
Fabulous Find: The Little Black Dress is a staple for every woman's closet.
What It Does: In addition to being super cure, this closet essential flatters in all the right places by lengthening on top and flaring out at the bottom. The symmetry here makes your waist look smaller, which is always great.
Why You Need It: A wardrobe favorite, you can wear it almost anywhere, as long as you accessorize appropriately.
9. Nordstrom
Fabulous Find: This combination of blazer, top, boyfriend jeans and lace-up sandals is the perfect casual look.
What It Does: Calling all curvy girls! This outfit hides imperfections by layering a blazer and top with a thin lace overlay, which, by the way, looks fantastic. You can easily wear this casual look to the mall or out with the kids.
Why You Need It: The thin layers disguise your middle, while adding textural and visual interest with the lace. The blazer uses vertical lines to make you seem taller and slimmer. As a bonus, Nordstrom offers free personal stylists to help you find the perfect ensemble for any occasion.
10. Target
Fabulous Find: Try out this striped pencil skirt with an asymmetrical hemline.
What It Does: The modern asymmetrical hemline will keep you on top of the latest trends. Wear it with a v-neck button down and a pair of nude pumps to complete your Monday work outfit.
Why You Need It: Not only are pencil skirts flattering on every shape, but also the vertical lines on this one will make you look leaner.
11. Urban Outfitters
Fabulous Find: Snag this Faux Leather Jacket for your wardrobe ASAP.
What It Does: This jacket puts your flaws undercover, while still looking like a badass.
Why You Need It: The fold-over sweater neck will help hide your upper imperfections, while radiating a "wow" factor. Use it to step up your game with your significant other or anytime you want to feel a little edgier.
12. ASOS
Fabulous Find: This wrap top is a must-have.
What It Does: Not only does this blouse look incredible, but it's also perfect for breastfeeding moms. It's versatile enough to wear almost anywhere from the office, to a playdate or even when you're out and about doing your own thing. This one's a winner in both comfort and style.
Why You Need It: I'm obsessed with this top. From the low cut v-neck, to the smartly draped torso, you get a sexy look while hiding the parts you don't want seen. Seriously, it's hot.
13. Zara
Fabulous Find: This multicolored bandana scarf is a necessary accessory.
What It Does: Accessorize wisely with this colorful piece. Wear it with your little black dress, or even a white button down paired with your best pair of jeans and you're good to go!
Why You Need It: This exciting accessory will especially attract the eye when paired with neutral colors. Use it to your advantage to complete a killer outfit.
While all of us are different, and there are many flattering styles out there to help a woman look her best after having a baby, I have highlighted a few of them above to help you look and feel great again through clothing.
For more help navigating the ins and outs of dressing your post-baby body, visit my site.