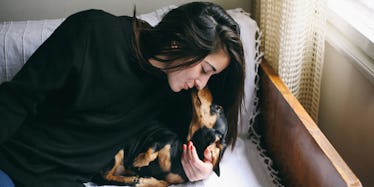 5 Reasons You Should Replace Your Rebound Guy With Man's Best Friend
As I write this, I am curled up in bed with my dog, and I can honestly say I've never been more content. He's my partner in crime, my snuggle babe and my source of comfort.
Cut to five months ago, when I was at work telling my good friend and receptionist that getting a dog was not going to replace the hole in her heart from her recent breakup. I had also recently gone through a rough experience with my f*ckboy of the season.
Two beautiful, smart, lonely women got their hearts broken by f*ckboys. It was basically a crime. So, what did we do? After heavily evaluating financials, work life and general maturity, we both got dogs (puppies, to be specific).
What I came to find out through the months of potty training, chewed-up items and the best snuggles ever is that I didn't get a dog to replace the hole in my heart. Instead, I got a dog to learn that I can be loved unconditionally and learn how to be happy with myself. Here are five reasons getting a dog could help your heart heal post-breakup:
1. It gives you a routine.
My dog does not care if I went to bed at 9 pm or 2 am because he is always hungry and has to go outside at 6 am. Thankfully, I'm a morning person, and I haven't been late to work since I got my dog.
2. It's the best excuse to get out of any social situation.
In my opinion, nothing good ever happens after 1 am, and no one is going to criticize you for going home to take care of your dog. You get the "responsible dog parent" label, and you can get out of there before things get cray.
3. It keeps you distracted.
It's really hard to stalk your ex on social media when you have a dog that needs to be played with. Your dog wants your attention, and your ex doesn't deserve it. So grab a tennis ball, and put your phone down.
4. It helps you get your revenge bod.
Khloé Kardashian is queen of the revenge bod. We salute you, Koko. But taking your dog on long walks will undoubtedly keep you active and healthy. When it was warm, I took my dog on 3-mile walks every single day and walked off all of the pints of ice cream I had consumed crying over my summer f*ckboy.
5. It shows you you're worthy of love.
Not that you need to get a dog to know you're worth love, but it sure as sh*t helps after the emotional torment of a breakup. Coming home to my dog that is so excited to see me every day is the most positive thing I've ever felt. Snuggling on the couch on a lazy Saturday morning with my dog is the most calm I've ever felt.
So this time around post-breakup, instead of heading to the bar to find a rebound, head to your local animal shelter and visit some dogs. If it's meant to be, you'll know. My dog looked into my eyes, and we just connected. I had the adoption papers filled out in five minutes.
While getting a dog will not replace your old flame, it will ignite love and peace in your heart that you didn't know could exist. Needless to say, if the next man I date doesn't give me the same adoring look my dog gives me, I will have to pass.