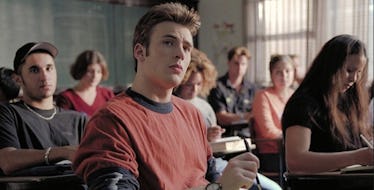 5 Reasons College Students Cheat That Have Nothing To Do With Being Lazy
Paramount Pictures
When you try to think of the biggest reason why college students cheat, there is probably one thought that comes to your mind: They are lazy and are just looking for ways to get better results with little effort.
That might be the truth for some students, but we need to see the big picture here. There are many problems they're facing throughout their college education, and sometimes they're left with no other choice but to look for an easy way out.
After a consultation with the professional writers from BestEssays writing company, who help students complete college essays, we came up with a list of unexpected reasons why students cheat.
1. They're ambitious.
That's right. Most students who cheat aren't lazy at all. In fact, they are too ambitious and have great visions for their futures. They won't achieve those goals with bad grades, though.
No matter how hard they study, it's nearly impossible to get perfect scores on every test. A single bad grade can ruin their chances to get into the graduate school of their choice, get a scholarship or land an internship.
When the educational system and tough competition on all markets impose such great standards, students have to find a way to deal with their slew of assignments and tests. That's why they decide to hire essay writers when they get stuck with papers and rely on different cheating methods during testing.
2. The competition is ruthless.
A 2012 survey from the Josephson Institute of Ethics revealed another common cause for cheating: the pressure imposed by the tough competition.
Boys, in particular, have a tendency towards competitiveness from a very early age. They are being brought up in the "dog-eat-dog" spirit, so they impose that attitude in the entire classroom environment. As students grow up, they realize they have to compete with every single person in the classroom to prove their value. They don't abandon that competitive spirit in college where they enter a new world and have to prove their worth all over again.
When they realize that almost everyone else is cheating and buying papers from essay writing services, they decide to compete with the same methods, at least occasionally.
3. They don't fear the punishment.
An online survey released among the students at Ohio University in 2006 showed the results everyone expected: 84 percent of the undergraduates and 55 percent of the graduate students admitted to cheating in the previous year. The statistics at the website of this university show low numbers of detected offenses for academic misconduct and dishonesty (58 and 27 cases, respectively, for 2010-2011).
This shows a big gap between the realistic situation of cheating, the threats for severe punishments and the actual detection of those practices. It seems like colleges and universities show institutional apathy in terms of finding ways to reveal "modern" cheating strategies, so the students don't fear of possible punishments. It's getting easier for them to decide, "I'll just hire someone to write my essay," when they know there is no way for the professors to prove it has been purchased online.
4. They don't understand the lectures.
Cognitive science shows that professors are expecting students to remember more information during a single lecture than their brains are able to process. Although college education has gone through reforms that introduced technology and fresh teaching methods in the lecture halls, the typical way of lecturing remained the same: Professors present too much information within a short timeframe.
No matter how hard students try to pay attention, they quickly forget the details. Since they cannot remember enough information during the lectures, they have to process the entire textbooks before exams. At the same time, they have coursework assignments to write and a research paper to cover. Cheating is sometimes inevitable.
5. There are too many papers to write.
Today's college professors are proponents for the method of giving frequent feedback to students. They achieve that goal by assigning multiple papers throughout the term. Frequent grading is beneficial because it relieves students from the pressure of the final exam, but too much grading is simply too much. When these students are dealing with several projects for different courses, a single extra assignment can add an excessive burden.
Since all these projects are important for the final grade, students are inclined to rely on unethical practices. Some of them decide to plagiarize or paraphrase online content, but many students purchase the papers from professional online services.
The problem with cheating at colleges is more complex than it seems. Laziness and procrastination are common reasons, but they don't present the essence of the issue.
Today's students are being caught up in a system that doesn't correspond to their interests and capacity. Colleges impose great expectations that are sometimes impossible to meet. As a result, the students get increasingly creative.