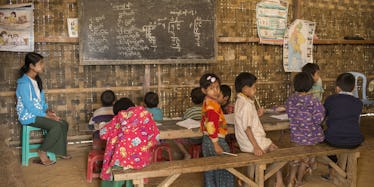 The Power Of Community: How Refugees Prove What Can Be Done With So Little
Shutterstock
Several years ago, I took a huge leap of faith and jumped at the opportunity to volunteer in Northern Thailand, in a Burmese migrant community. The year prior had been incredibly personally tumultuous, and I had decided that I could no longer live at my parents' home in Florida.
I couldn't work the same job and live the same life I had in the past. I made the decision that I was going to go to Hong Kong and look for work as a professional writer or English teacher when I arrived.
My mother had a chance encounter at a wedding. She met the head of an organization called Empowering Women of Burma (EWOB). She asked outright if I could come work for her. A month later, I was on a plane, and I had a brand new backpack. I had only found the place where I was going on a map once, and I didn't speak one word of Thai or Burmese.
I was working for an organization that provided skill training to women in migrant communities. The specific focus was on shampoo making, mushroom and orchid horticulture and English education.
I found myself teaching English to school-aged children and having immersive fluency classes with college-aged women. Both experiences were life-changing and affirming.
I have an enormous amount of respect for teachers after my brief experiences. I was blessed to be in a situation where the children desperately wanted to learn, but I still found myself playing babysitter, counselor, administration and disciplinarian, in addition to the other responsibilities of being a teacher.
My conversations in fluency class have changed the way I approach my life to this day. I came to that experience feeling very bad about myself and bitter about the hand I was dealt. In a few short days, the girls I was conversing with put my whole past and future in context.
They had a lost family members. Some had friends and family being held as political prisoners, and they had left everything they had in another country, not knowing if they would ever return. They had left their pets, family photos and, in some cases, elderly family members who could not make the journey.
Those conversations helped developed the course of the following five years in my life. I have not had a day since where I haven't felt liked I owed them all my time and energy. It led me to want to travel and volunteer more. I wanted to meet more people like them. I wanted to meet more people like me. It also led me to pursue a career in public service.
Living in rural Asia is like being on an other planet in comparison to the luxury we have in the West. Language, text, technology and speed of transport was radically different. It was like stepping into the pages of a book I had never read.
Initially, I couldn't sleep at night because of the howling of stray dogs. I couldn't sleep in the morning because of rogue roosters. I couldn't read at night because of frequent power outages. I couldn't cook for myself because I was terrified of the open gas stove and wok. (I also can't cook.)
All the food gave me chronic acid reflux. Burmese and Thai food is the spiciest in the world. But now, I'm addicted.
I even had to learn how to use the toilet again. I lived in a house that didn't have running water or consistent electricity. I had to use an Asian squatting toilet without a flush.
When I was alone, things worked out fine. But when I had a line of students behind me and was wearing an ankle-length skirt (as is the custom of modest dress), things started to get dicey.
When I got home after that first long trip abroad, I didn't need a cell phone. I kept myself busy reading paper books and newspapers. I was so grateful to get current things in English.
I started spending time with the people who made me happy. I turned a TV on for the first time in months, and I was horrified by the faces I saw on Bravo. What the media tells us is beautiful (and what I had always perceived as beautiful) suddenly felt twisted and warped to me. A terrifying clown show filled with Botox, fillers and blowouts now scared me.
Living in the village opened my eyes to how happy we can be with so little. I took my whole life with me on my back.
Our happiness shouldn't be based on our appearance or possessions. It's in our experiences and relationships. These are the things that no one can take away.
Americans are so often caught up in their culture of consumerism. I am guilty of it as well.
It's so easy to close yourself off to the issues of the world by narrowing the news that shows up on your timeline on Facebook, by focusing on national events in the media or by not reading the news at all. But it's a true disservice to ourselves.