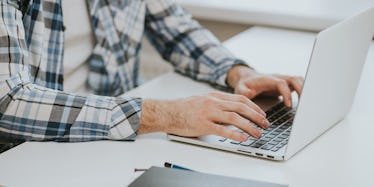 6 Reasons To Pick Up Freelance Writing Before Starting Any Career
Shutterstock
Writing changed my life.
Over the last seven days, I've written articles about laser eye surgery, dog grooming, psychological barriers, construction recruitment and bum implants -- and that was a quiet week.
Six months ago, it was a different story. A busy week for me consisted of half-heartedly sending out a few applications for jobs I didn't want and drinking away my sorrows that weekend after hearing -- or presuming -- I'd been turned down.
I only stumbled into freelance writing after a friend convinced me it was a good idea. For the past three years, he'd been traveling through Latin America making a living from it, but at the time, I just couldn't see myself as a writer -- then or ever.
It turns out, though, to be a freelance writer, it doesn't matter whether you are sporty, creative, musical or scientific -- all you need is passion and a great desire to learn.
Add in a computer and some writing ability, and you have the recipe to kick-starting a whole bunch of different career paths.
Let's dive into the six main reasons you should become a freelance writer before starting any career.
1. You'll develop "solopreneurial" skills.
The age of the "solopreneur" is upon us. From a grandma who rents out her spare room, to a preteen who posts videos to YouTube of himself commentating while playing FIFA, solopreneurship is growing all around us and is set to become a defining characteristic of the Millennial workforce.
Becoming a freelance writer -- a career path in which you'll learn everything from how to market yourself and build your social presence, to closing sales and managing cash flow -- will not only separate you from the crowd and give you a greater standing in the business world, it'll make you completely resilient in the event you are hit with unemployment.
2. You'll become an expert in your field.
Knowledge is power. And in order to write an article meant to inform others about a specific topic, you need to be knowledgeable, yourself.
That being said, there's no better way of learning than doing -- or, in particular, writing. From covering the topic so much, if I decided to a chase a career in cosmetology, say specifically aesthetic surgery, I'm pretty sure I'd make for an impressive candidate -- or at least an interesting interviewee.
Aside from writing articles, one sure sign of being an expert in a given field is whether or not you are a published author. Today, this is easier than ever, as you can self-publish and sell through online stores -- quickly gaining credibility without decades of experience.
3. You can explore a range of career avenues.
Your late teens and early 20s are a confusing time. Should you start a graduate scheme, pursue further study, set up your own business or let go of your inhibitions and travel the world?
With freelance writing, you can keep moving forward, even if you aren't quite sure where you are heading. You're constantly exposed to subject matter you otherwise wouldn't be aware of and can use the process of writing and storytelling as a way to explore your own thoughts and desires -- from the beach or your bedroom.
4. You can travel and find your dream life.
Two of the main barriers that prevent people from realizing their dreams are 1. not living or working in the right place, and 2. not being surrounded by the right people.
A big part of being human is the way in which we draw energy from others and alter our belief systems and behavior based on their influences.
Living in a place where you are unhappy and under-stimulated, combined with a lack of immediately positive influences around you, can present obstacles that are not only unnecessary but downright harmful to your progress.
Freelance writing is a virtual business that you can run independently from anywhere in the world with a decent enough Internet connection. It'd be silly not to revel in the freedom, discover a place you want to live your life and find people you want to share that life with.
5. You can a fund further study or supplement a graduate salary.
You decided to pursue further education but aren't sure how you'll fund it? How about getting paid to research and write about your field of interest?
You can dedicate as much time as you please to writing, so whether you want to take a year out to revise and earn some money, or you have plans to work, as well as study, you can tailor the workload to your needs.
The same goes for graduate jobs. Often, an unattractive starting salary can be a little off-putting. But supplementing your income by writing a few articles each week could be the solution.
Or, for the more ambitious, invest some time in building your writing business and approach the company you want to work with further down the line, when you have the managerial experience to pitch yourself for a higher paid position.
6. You face next to nothing in setup costs.
At this stage, anything you can do for relatively no cost is a winner: online courses, seminars, video tutorials. With little to no upfront investment, the return is always going to be positive.
And with freelance writing that couldn't be more true. For the time it takes to optimize your LinkedIn profile, set up a free website, write some samples and send a few emails, you could be on your way to earning more than the average full-time nine-to-five job -- all while working part time.
Passion and a desire to learn; these are two qualities we college graduates have in abundance. Invest this energy into freelance writing as soon as you leave college -- or even before -- and immediately you'll be widening your skill set, becoming more employable and edging ever closer toward landing your dream job.
Want to take the first step to a bountiful part-time writing career?
Grab a free copy of our new eBook: "MORNING MASTERY: The Simple 20 Minute Routine For Long Lasting Energy, Laser-Sharp Focus, and Stress Free Living."
Joseph is a freelance writer, and the co-creator of Project Monkey Mind, a new blog for the 21st century solopreneur and young professional who wants to lead a more free and fulfilling life.