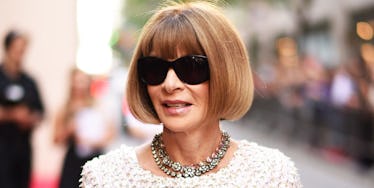 6 New York Women Who Are Breaking Down Barriers For Girls Around The World
Getty Images
This month is incredibly special, and not just because we get to drink like Irish men on St. Patrick's Day. We are celebrating powerful, influential and inspiring women of all races, backgrounds and creeds for Women's History Month.
I am proud to be a supporter of and activist for different women-focused causes, charities and organizations. I had the opportunity to grow up around several inspiring women my whole life, and each of them contributed to my personal success.
In a city like New York, which is competitive, nauseating and downright brutal, it takes a special and strong kind of woman to make it. At times, women still do not get the same promotions, raises or even wages as their male counterparts. But the women I list here broke barriers, took chances and paved their own ways. Here are six of the most influential women in New York City:
1. Anna Wintour, Editor-In-Chief Of Vogue Magazine
Thanks to her tough exterior and Chanel sunglasses, it might be hard to imagine that Wintour was once fired in her career. She has stated numerous times that she recommends that everyone go through that learning experience.
We all see her in the front row at top fashion shows, hosting the MET Gala and being portrayed in films. But she is a force to be reckoned with: not just in the fashion industry, but also in politics.
In the 2008 election, she hosted a very profitable fundraiser for then Senator Obama. Now, in 2016, she is showing her support for Hillary Clinton. In a time in her life when she could easily retire, she continues to take on more responsibilities, challenges and risks.
She is the true definition of a New Yorker, thanks to her hustler approach to life. Wintour is an influential woman in fashion, the media and business.
2. Chirlane McCray, First Lady Of New York City
The saying, "Behind every strong man is a powerful woman," is absolutely the case with New York City's mayor, Bill DeBlasio. The mayor consults Chirlane McCray, his wife of 20 years, before every decision he makes. She was very instrumental in his campaign. She understands public relations, and is a great political speechwriter.
In addition, she has her own staff. She runs the Mayor's Fund To Advance New York City, which has raked in $15 million in funding. McCray is an influential woman in politics, public relations and public service.
3. Emily Brickel Edelson, Co-Founder Of ChicSketch
This young Millennial is already breaking grounds in the tech industry. Her background as a published fashion illustrator helped her create ChicSketch, an app that turns your photos into fashion illustrations.
During New York Fashion Week, she was seen both front row and backstage of several designers' shows with her sketchbook, and she was drawing beautiful sketches. Emily is an influential woman in fashion, technology and business.
4. Jean Shafiroff, Philanthropist And Author
When it comes to powerful women on the island of Manhattan, Jean Shafiroff is one of the best. She has lent her time, resources and fundraising abilities to support many charities, both across the city and in the Hamptons.
She is an active board member of the New York City Mission Society, a non-profit organization that helps low-income students and families. She recently became an author with the release of her book, "Successful Philanthropy: How To Make A Life By What You Give."
She shares her personal journey, and highlights the point that you don't need to be a millionaire to give back. You can be a volunteer, helping with fundraising, and still be able to make a difference. Shafiroff is an influential woman in philanthropy, style and compassion.
5. Michelle Kohanzo, Managing Director At Land Of Nod
Michelle Kohanzo joined the Land of Nod as a customer service representative in 1999. She was the 10th employee at the then catalog-only retailer. Since then, she's worked in almost every department, including operations, IT, marketing and merchandising. Now, she is the managing director of the company.
She also launched #CelebrateTuesday, a campaign that Nod has created for families to share and celebrate the small (but important) moments in life. She's initiated ongoing female empowerment by supporting up-and-coming artists through partnerships and mentorship (such as Ashley Goldberg, Roxy Marj and Lotta Jansdotter).
She has also participated in FEED's celebration of #InternationalWomensDay, which launched this week. Kohanzo is an influential woman in technology, marketing and social initiatives.
6. Beth Shak, Three-Time Poker World Series Finalist
Known internationally for her impressive shoe collection, Beth Shak has closets full of one-of-a-kind styles from some of the world's most elite and sought-after designers. She has parlayed her love of fashion and footwear -- a personal collection spanning over 1,200 designer shoes ­-- into a business venture.
She considers these purchases an investment, and is leveraging her money in the handbag market. Her collection has amassed a fortune. She actually has insurance policies on her luxury handbags.
Shak is using her celebrity status to give back, and most recently co-founded and chaired the charity poker event benefiting The JED Foundation. Beth is an influential woman in philanthropy, fashion and business.
It doesn't matter what city you're from. There are powerful, influential and trailblazing women all over the world.
Women continue to fight adversity, shake off stereotypes and prove you really can have it all. The women listed above are already making history, and their legacies will live on to inspire the women who come after them.