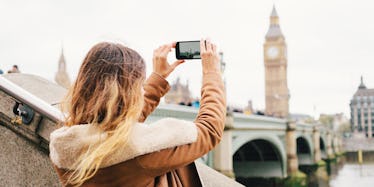 7 Reasons Any New Yorker Will Find A Little Bit Of Home In London
Shutterstock
"What A Girl Wants" is the best movie of all time. I don't care what anyone else thinks.
I finally fulfilled my lifelong goal of imitating the movie and becoming Daphne (Amanda Bynes) by visiting London and Windsor over the holidays. While I didn't find my long-lost dad, I did have an awesome time.
In order, here are seven reasons why this vacation was the best one ever:
7. Sundays In Shoreditch
Let's be real for a second: If you're going to London, you're probably thinking your first stop will be the Cereal Killer Cafe. While you're not wrong for wanting to drop everything and run to this tiny, all-day breakfast place, do yourself a favor and devote an entire day to this adorable neighborhood.
This area provides the perfect blend of vintage clothes, street food, street art and flea markets. It's like taking Smorgasburg, the Brooklyn Flea and the Lower East Side, and then putting them all in one place.
Seriously: You can't find a better place to walk around on a Sunday morning. By the way, if you do hit up the Cereal Killer Cafe, the hot chocolate is mouthwatering. It will warm your insides.
6. Queen Mary's Dolls' House And Windsor Castle
This beautiful and intricate dollhouse resides in one of the many rooms of Windsor Castle. While touring Windsor Castle will be at the top of your list for your trip, make sure this site is also on there.
You might think there will be annoying children hanging around and will probably want to overlook it, but don't. If this is the case, tour the dollhouse during school hours. This site is unlike any toy you've ever seen. It is the perfect balance between serious OCD and decorative art.
Every room is designed to a T. The bathrooms even have flushing toilets. You get to see all the dolls that have been gifted to the queen by different country leaders.
5. "The Play That Goes Wrong"
The theatre is great in London. I know what you're thinking: "Well, New York has that, too."
You might be right, but New York doesn't have "The Play That Goes Wrong." This is a huge problem because this play is the best play of all time. (Say this with your best Kanye impression.)
In all seriousness, I have never laughed harder than I did when I saw this play. I'm still talking about it, and it's been almost a month. It has become a borderline obsession.
I laughed from the second the lights dimmed to the second the curtains closed. If I hadn't seen it on the last night of my trip, I probably would've seen it twice while I was there. Everything and anything goes wrong in this play within a play.
I hear tickets are sold out, so before you even buy your plane ticket to London, make sure you can score seats. Note: Arrive early to gain the full experience.
4. The Double-Decker Buses
Walking around London is like living in a movie set. Think of movie classics such as "What A Girl Wants," "The Parent Trap" and "London Calling."
Well, maybe these are just my classics. But in all seriousness, the emblematic double-decker red buses drive down the streets of London in large numbers. In what other city would you find public transportation beautiful? Just be careful to look the other way while crossing the street.
3. Harrods Food Hall
When you walk in there, your stomach will rumble. You'll think, "Holy sh*t. Why doesn't Saks Fifth Avenue have this?"
Both are valid reactions, as this is the most gorgeous and scrumptious-looking place in London. From sushi and macaroons to lattes and cured meats, this food hall has it all. The servers wear the most authentic outfits, and the hall is constantly bustling.
It makes the Plaza Food Hall look like a fast food restaurant. It is a sight to see, even if you're not eating there.
2. The Scones
Every time you go to your local Starbucks in the States, you have to admit those perfectly sugar-dusted scones look delectable. After your trip to London, however, those treats will look like stale imposters of the mouthwatering ones you tried overseas.
Fresh, hot and perfectly browned, these scones can be ordered anywhere, and you can always expect the extraordinary. The best part about these London food staples is they come with clotted cream. If you've never had it, you're missing out on the fattiest, most delicious condiment ever. Mix a little lemon curd or strawberry jam into it, and you'll go to London food heaven.
1. The British Accent
Everything just sounds better when a Brit says it. Since London is filled with Brits, the accent is ubiquitous around the city. It makes everything sound more polite and proper.
Any word just sounds so much more "brilliant" when it's said in a British accent. How can I get one?
I'm saving up my dollars to return to London soon. The problem is, it will take f*cking forever since the pound is so strong. Until then, I'll stick to watching Lifetime movies about William and Kate.