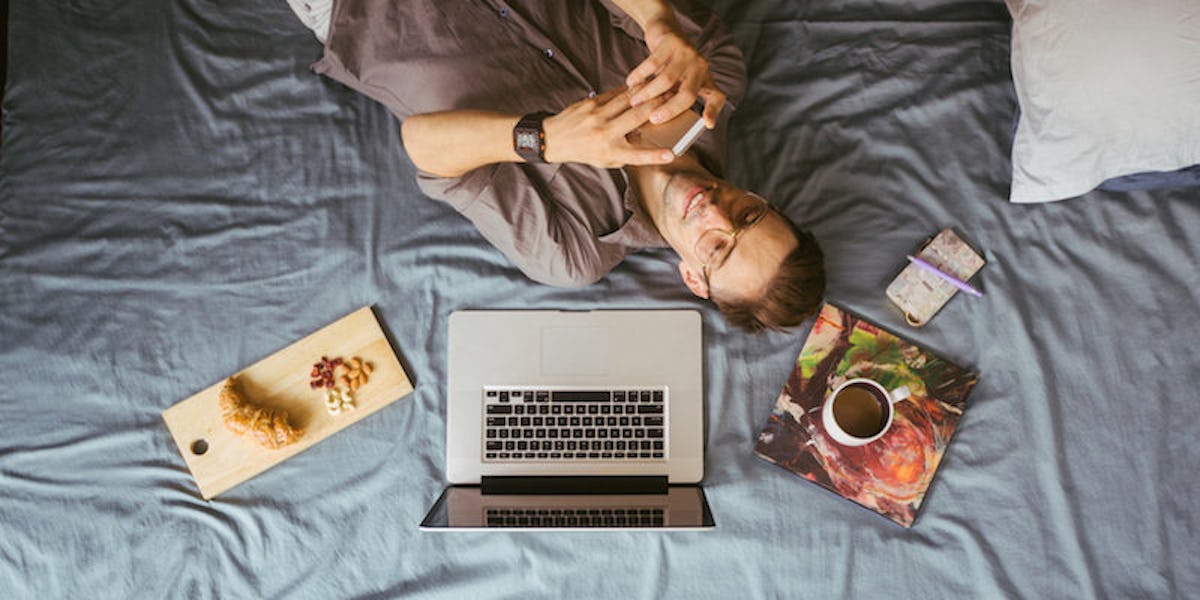 5 Tools That Will Set You Up For New Year's Resolution Success
The new year will be here before we know it.
While about half of us make resolutions, many of us do not follow through with them.
I've compiled a handy list of five products that might help you make this year's resolutions more successful.
Studies show the top three resolutions we make are to lose weight, get organized and save more money.
The following products focus on these three areas:
1. Evernote
Evernote is a free downloadable application for your computer, with a mirrored website and mobile app interface as well.
It is free, but it does have a paid version for more advanced users who need more storage space.
The free version includes everything you need to get started, though.
The beauty of Evernote is you can save just about anything —pictures, documents, notes, etc. — all in one place.
The possibilities are endless. You can also share your content with other Evernote users.
This application can help you get organized with all of your projects, whether it's writing that book you've always wanted to write, keeping your expense receipts all in one place, organizing your clients or collecting ideas to renovate your home.
The best part is, whether you update Evernote on your phone, your laptop or the Internet, all three versions of Evernote update at the same time.
This is so incredibly convenient while you're leaving the store.
Just snap a picture of your expense receipt and upload it from your phone.
When meeting a new potential client, you can add his or her contact information somewhere besides your contacts, so you can easily find it again.
While organizing research for a book, you can keep all of your notes and art for each chapter in its own separate notebook.
Evernote is the ultimate organizational tool for people who are on the go.
For a free organizational application, it is by far the best one on the market.
2. Passion Planner
If you haven't heard of Passion Planner, you are certainly missing out.
Angela Trinidad has put an amazing twist on the standard planner.
Each week provides motivational quotes, an area to brainstorm, both personal and professional to-do lists to fill out and a place to reflect on what went well that week.
We all need to take time and celebrate our accomplishments.
Most of us skip over an achievement and just move on to the next one.
She also provides a space at the top of each day for you to write your focus.
Each time you open Passion Planner, you are reminded to stay on track.
Passion Planner also has a "Pay It Forward" system, where you can either provide a planner for someone who may need one but cannot afford it, or you can sign up to receive one.
It is so rare these days to find something that is not only handy, but also serves as a catalyst to help those in need.
3. Self-Help Books
There are two personal development books on the market right now that can dramatically help you create resolutions and follow through with them successfully.
"7 Steps To Being A Phenomenal Woman" is a motivational self-help book for women that will get you motivated and organized in every area of your life.
The author starts off by helping you find your purpose in life.
She teaches you how to think more positively, figure out a nutrition and fitness plan that will fit your lifestyle, develop a healthy body image, embrace your sexuality and set and achieve goals.
The best part is, the language is cheeky and colorful.
It's definitely not a boring read. This is a must-have for any woman looking to accomplish something in 2016.
"The Power of Habit" was listed as one of the top 10 personal development books for men to read.
This book provides research on why and how we develop habits, how to break those habits and how to replace them with new ones.
It isn't just a dry "how-to" book.
It really digs into the human psyche and discusses experiments that have been tested on human behavior.
It is a fascinating read, and it's perfect for anyone who is trying to kick a bad habit in 2016.
4. MyFitnessPal
MyFitnessPal is a free app and a critical asset for anyone looking to lose weight in 2016.
You start off by creating a profile where you choose your goals.
You not only write your goal weight, but also how quickly you want to lose pounds.
You then start logging your food as you eat it, and it gives you a breakdown of nutrients and calories for everything you eat.
You will also enter any exercise you do that day, and it subtracts out the calories you burned off.
It tells you if you are on track for meeting your weight loss goals.
Beyond just calories, it gives you a breakdown of your macros, which are your protein, fat and carb ratios.
Keeping an eye on these ratios is critical to losing weight the healthy way.
If you are eating the right amount of calories but not enough protein, you will lose fat.
But, you will also lose muscle in the process.
While you should definitely watch your fat intake, you need to make sure it doesn't drop below 20 percent, since your body needs fat to function properly.
(Just make sure you are eating the good fats.)
You can also set goals for your macro ratios and see how you are doing as you eat throughout the day.
Most people want to aim for a 40:30:30 ratio (proteins to carbs to fat) to lose weight at a healthy pace and keep their diets at manageable levels.
5. Mint
Mint is a free website and mobile application system that keeps track of your finances for you.
Once you load in your bank account information, it automatically tracks and reports your spending habits to you in real time.
This gives you a quick glance at how much money you are spending on food, gas, clothing and anything else.
For those with a New Year's resolution of spending less and saving more, this application will allow you to see which areas you are spending the most and help you adjust your budget accordingly.
Mint also allows you to track your bills, making it easy to never miss a due date again.
This cuts back on late fees.
You can also add your credit cards, investments and anything else financial you would like to track.
Mint truly helps you get your finances together.
If you have financial goals in 2016, Mint is definitely a program you need to be using.
With these products, you can move into January armed with the tools necessary to crush your goals in 2016.
Make it your best, most productive year yet.