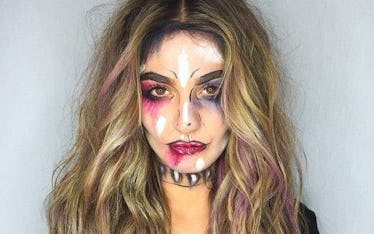 This New Temporary Hair "Makeup" Is The Coolest, Easiest Halloween Hack
Courtesy of IGK
The first time I colored my hair for Halloween was in 2007, and I bought "temporary" black hair dye from the Halloween Spirit store, totally necessary for my transformation to New York aka Tiffany Patterson, of Flavor of Love and I Love New York fame. While the formula succeeded in turning my blonde hair black, I spent the next month or so with various stages of gray hair, 10 years before that was a trendy or desirable thing. (Spoiler: Don't be like me.) If you're seeking truly temporary hair dye that washes out with shampoo, I beg you to skip the pop-up Halloween stores and choose from the amazing new options below.
Think about it: a lot has changed since 2007. Vivid hair color is all over Instagram — not to mention completely mainstream — and Halloween is the perfect occasion to experiment. Changing your hair color is cheaper than buying an entire costume, and it can also serve as the final detail that puts your costume over the edge. Luckily, beauty companies have evolved with the times, inventing products to simultaneously please our commitment-phobe personalities and burning desire for bomb colorful hair. Chances are, there's a wash-out hair color that will work for your strands.
Best For Dark Hair
Clairol Color Crave Hair Makeup, $10, Amazon 
Clairol Color Crave Hair Makeup comes in six metallic shades from platinum (shown) to ruby red, that provide better color payoff on dark hair. Simply shake up the tube, then dab as much you want (onto your hair, don't start dancing). The liquid formula relies on "micro-crystals" that reflect light, therefore allowing deeper toned hair to appear lighter. One glance at the packaging provides total ice-princess vibes.
Best For Light Hair
IGK Ombre Color Spray, $29, Sephora 
Inspired by the "Sutro" filter on Instagram, IGK's Ombré Color Spray disperses violet purple pigments through a powerful aerosol mist. Whip this out if you want to color a large surface area of lighter hair in the least amount of time, like when a babe invites you to a last-minute Halloween party, and you have zero time to pull a look together. If purple (the color of royalty, people) just ain't your jam, the brand also has a spray-on metallic shade inspired by the "Amaro" filter.
Best For Small Streaks
Bumble & bumble's Bb Color Sticks, $26, Sephora 
If you want to go multi-colored, highlight only specific strands, or if you're a bit of a control freak, Bumble & bumble's Bb Color Sticks in Statement Shades will satisfy your soul. The formula boasts mineral-based pigments and fibers that adhere to hair, plus it comes in four fun shades like Pacific (shown). The crayon formula allows for precision and the ability to contrast shades side-by-side, and you'll feel like an artiste. 
The crowning glory: When it comes to rinse the fun shade out, your usual shampoo will do the trick. Each of these products has been designed to collapse when confronted with the polymers in shampoo — just like you'll collapse at the end of a wicked-pretty Halloween night.