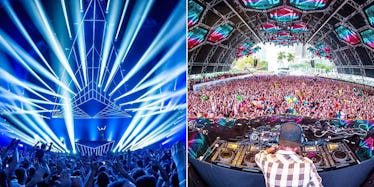 5 Reasons To Skip Coachella And Head To A Music Festival In Southeast Asia
Music pulsates through your soul and revitalizes your mind and body. Your body buzzes on edge with each build-up, and it reverberates with every bass drop.
You jump up and down with your new tribe to the beats. It's exhilarating. Live music is, quite simply, magical. You can't put the feeling into words.
So, what happens when you take this experience of going to a music festival and throw yourself halfway across the world? Those experiences and feelings dig even deeper.
Here are the reasons you need to book a trip to an electronic music festival in Southeast Asia this year:
1. There's a high level of energy.
"Hey, we have great energy at our festivals here in the West."
Yeah, of course, but there's something different about being at a music festival in a foreign country. It's extremely difficult to even describe the feeling and energy experienced there.
You are high on life. You feel like you're on a cloud. With every beat, the music takes you higher and higher.
The tingle in your body is a sensation that has never been felt before. You have perpetual goosebumps.
The feeling is incredible. The energy is through the roof.
It's always like this at a music festival. There's no denying it. However, it's amplified when you're surrounded by new faces in a new city, with the select few friends who were at your level enough to make the journey to experience it with you.
2. It's not just trendy.
Unfortunately, many music festivals in the West have been around for a long time. This means they have gained the attraction of people everywhere.
Some of these people decide to go because it's the trendy and cool thing to do. Some people are not truly down with the music and the energy, so they treat it like any old frat party. Sometimes, this ruins it for everyone else.
There are always groups that just simply don't fit in. They are there to party, and that's it. They don't care for the music or the true experience. They just want to be able to say they went because it's cool.
3. It's significantly cheaper.
It's, like, ridiculously cheaper. You won't believe the prices compared to EDC, Ultra or the like. I went to Future Music Festival Asia for a three-night music fest, and it cost me $85 total for the ticket.
The DJakarta Warehouse party in Indonesia was a two-night festival for about the same price, and Neverland Manila was only a one-day festival for a bit less. If you head up to the north of Asia (like Japan or South Korea), you might find the prices to be more on par with those in the states, but Southeast Asia is always cheaper with regard to everything.
4. You have new friends, new experiences and new everything, but the same great music and artists.
Everything is new. Well, almost. You'll be dancing and jamming with people from around the world in a totally new country, which will result in some amazing new experiences.
If you've been to a music festival, I don't need to tell you much more. There's something about meeting another person there, and it's just indescribable. There's an instant connection. The next thing you know, you're dancing the night away with a new group of friends.
You might be thinking that Asia isn't "as cool" or "with it" when it comes to music, but you couldn't be more wrong. All the major artists love coming to Asia, and you'll get the same quality of performers, DJs and musicians that would be any other music festival. The setup and atmosphere are also out of this f*cking world.
5. It's a music festival and holiday in one.
If you are just coming over for the sole purpose of attending a music festival, I beg you to reconsider. It's a waste of time and money to jet over just for a music festival. Come over and make a holiday out of it.
Asia is an exotic place to have a getaway. I've lived, worked and traveled in Southeast Asia for years, and it's a totally different world. Wouldn't it be amazing to experience the life and culture over here before and after a phenomenal, mind-blowing music festival? I could go on for years about the positives of holidaying in these parts, but you'll just have to find out for yourself.
Here is a list of popular electronic music festivals in Southeast Asia:
This list isn't it because there are so many more. So, when are you booking a ticket across the world and going to an electronic music festival in Southeast Asia?
This article was originally published on Where in the World is Nina?