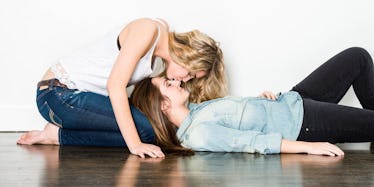 Qualities That Can Make Or Break You
Stocksy
Life is all about how you perceive things and the way you perceive things is contingent upon your attitude. There are a multitude of attributes that will help you prosper in life, but these characteristics need to be displayed in the proper manner. The key is self-awareness. Consider the current situation you are in and gauge the proper behavior for those circumstances. Look at the people around you and adjust your behavior accordingly.
Below are a list of the traits that can make or break you in life, depending on how you use them, that is:
Confidence
Confidence is key in any and all aspects of life, this is no surprise. However, there is a fine line between confidence and cockiness. It's vital to be sure of yourself and your values, but when they become overbearing, cockiness begins to emerge. That trait is not an admirable one and will actually deter people from associating with you. Be careful of how you assert yourself before you scare people away.
"We gain strength, and courage, and confidence by each experience in which we really stop to look fear in the face... we must do that which we think we cannot." - Eleanor Roosevelt
Passion
Dedicating yourself to one goal in life can garner great rewards. However, if your passion makes you ignore everything else going on in your life, that's not a good thing. If you are ignoring your friends and family to achieve success, you are making a terrible mistake. Passion is a great trait to have in a business sense, but you need to make sure you are not ignoring the other important things in your life. What's the point of amazing success if you can't even share it with the ones you love?
Resourcefulness
Having the ability to reference your past experiences while dealing with your current challenges is a crucial skill for progress in life. This will come in handy as you try to navigate through obstacles. However, if you are only thinking of past experiences, you may cloud your judgment and, as a result, cause future struggles.
"We keep moving forward, opening new doors, and doing new things, because we're curious and curiosity keeps leading us down new paths." – Walt Disney
Curiosity
The only way you can hope to expand your knowledge is by asking questions. By learning how to ask the right questions, you can better understand how things function around you. As much as this is a useful trait, too many questions can become irritating. If you ask one person too many questions simultaneously, you may overwhelm him or her and end up causing more harm than good. Curiosity fuels persistence, which is extremely important when trying to solve a problem.
Flexibility
Being flexible is an amicable trait, one that transcends every aspect of our lives. Being able to reach a compromise and to adapt to any situation will only help you ease your stress levels. While this is a great trait to possess, you have to be careful because people can and will take advantage of you.
Empathy
It's important to be able to empathize with other people as you journey through life. Having the ability to personally understand another person's situation can only help you. But there comes a point where enough is enough. You have to make sure as long as you identify with them you are still holding your ground. You must not let people take advantage of you while appealing to your emotions.
"If your emotional abilities aren't in hand, if you don't have self-awareness, if you are not able to manage your distressing emotions, if you can't have empathy and have effective relationships, then no matter how smart you are, you are not going to get very far."
Multitask
Having the ability to complete multiple tasks at once can definitely come in handy. In the work force, you are going to be typically managing a couple of projects simultaneously. The downfall of multitasking is that it detracts your focus from one thing to the next. Everything in this day and age is a distraction so it's important to be able to focus on each project you are working on at that present moment.
Gratitude
When someone does something for you, it's important to express your thankfulness to him or her. A simple thank you is sufficient enough. You don't need to go over the top to thank someone or you will earn yourself a reputation as a brown noser. No one likes a kiss ass -- express your thanks and move on.
"Never say that you can't do something, or that something seems impossible, or that something can't be done, no matter how discouraging or harrowing it may be; human beings are limited only by what we allow ourselves to be limited by: our own minds. We are each the masters of our own reality; when we become self-aware to this: absolutely anything in the world is possible."
Resilience
It's crucial to have tough skin in life, but not so tough that you cannot understand and appreciate criticism. Not everything you do in life will be done correctly, so it's important to be open to advice from others. Do not close yourself off completely so that you give off a "too good for you attitude." No one wants to associate with someone who has an attitude problem.
Extrovert/Introvert
It's important to figure out a balance between these two. People are drawn to outgoing people. However, you don't want to be so extroverted that you are constantly the center of attention, just like you don't want to be so introverted that your voice is never heard. Whether in business relations or just in a social setting, this balance is essential.