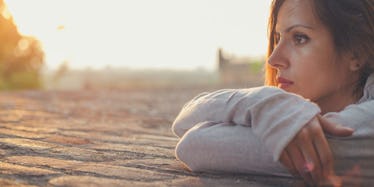 Woman Posts Inspirational Video About Finding Herself And Losing Weight By Working Out For 100 Days
Stocksy
Determined to improve her life and regain control of her body, 348 pound Lakeisha Shurn joined in on the #giveit100 challenge. She uploaded a video every day for 100 days of her working out and her commentary on her weight loss journey.
"I have low self-esteem, I am going through depression, and I want to change all of that. Next hundred days I will be on the journey of losing weight and finding myself," says Shurn at the beginning of the video.
What happens next is nothing short of spectacular. Despite both mental and physical challenges, Lakeisha continues to the gym every day and we gradually see her spirit brighten with each camera take.
After 100 days of pushing herself harder than she thought she could, Lakeisha lost eighteen pounds and two pant-sizes.
What makes Lakeisha's story so motivating is that she secured a new healthy lifestyle, instead of just focusing on rapid weight loss to show off to the Internet. When it comes to weight loss, most people give up, try something extreme, or look for a short-cut.
Lakeisha, however, is proof that good, old-fashioned exercise and willpower can genuinely improve your mind and body.
The fact that she started at such a low point and got to where she is now all on her own makes her journey even more inspiring.
Lakeisha proves that you don't need a fancy trainer, expensive juices, or special supplements to lose weight -- it all comes down to believing in yourself.
Feeling motivated? Let's see what you can do in 100 days.
H/T: Yahoo! Screen