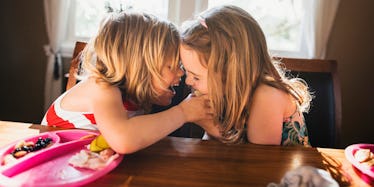 Kermit Gives A TEDx Talk: 10 Lessons We Learned From A Puppet As Kids
It's not easy being green, but that's the opposite of what Kermit the Frog would make you believe. The world-famous Muppet is doling out happiness hits with his laid back attitude and easy-going one-liners.
Positive vibes pump through his veins as he sings about rainbows and life's simple pleasures. He can inspire us all to lighten up a little and take things in stride.
Kermit the Frog is Jim Henson's most famous Muppet creation, which he introduced in 1955. Since Kermit's debut more than 60 years ago, he has influenced mainstream media and culture.
With guest appearances on "Saturday Night Live," CNN, "Late Night with Conan O'Brien" and "Family Guy," he must know a thing or two about being in the spotlight.
Kermit accompanied Lady Gaga at the MTV Music Video Awards in 2009, and he's also an accomplished musician, with his Billboard Hot 100 chart topper. Most recently, Kermit became the first puppet to give a TEDx Talk.
The green megastar shared his philosophies on life, saying,
I believe creativity is an inherent part of everyone... So, never worry about failure. It's GONNA happen. But that's okay: go ahead, take chances…and you might just find that what feels like failure isn't failure at all, it's what inspires you to dream even bigger.
So, what is his recipe for success? As it turns out, everything you ever needed to know can be traced back to the little green frog's power mantras.
Here are the top 10 quotes from Kermit to help you live a full life.
1. "Life is like a movie; write your own ending."
The rest is unwritten. You can take charge of your life and write your own script.
2. "There are never enough comfort stops. The places you're going to are never on the map."
Go for what you want, not what you think you can get. And, on your way to what you want, you might stumble upon greatness.
3. "Be one of the people who made a difference in the world. Leave the world a little better for having been here."
You can make a difference just by being you. Focus on ways you can help and ways you can give, instead of focusing on what you can get.
4. "Dreams are how we figure out where we want to go. Life is how we get there."
Don't forget to dream big, but allow life to unfold and give you what you need.
5. "Be thankful for the bad things in life. For they opened your eyes to the good things you weren't paying attention to before."
The happiest people in the world are thankful for what they do have on the way toward getting what they want.
6. "As long as I still believe, the dream is alive."
Never ever give up on a dream, unless it leaves your heart. As long as you believe in it, your dream is possible.
7. "Maybe you don't need the whole world to love you, you know. Maybe you just need one person."
So many people chase fame and fortune and gather Facebook friends in an effort to be seen and appreciated. All you need is one love, and it can come from one person – maybe even yourself.
8. "Every journey begins with a single hop."
Your dreams may feel intimidating, and you may be wondering how you will get there. One step forward is all you need to take. Each step will reveal the next best right action.
9. "Just because you haven't found your talent yet doesn't mean you won't."
Everyone has a purpose and passion in life. If you haven't yet found yours, it doesn't mean it doesn't exist; it just means you are still discovering. Enjoy the journey of exploration.
10. "Always be yourself. Never take yourself too seriously. And, beware of advice from experts, pigs and members of Parliament."
The best advice in the world comes from your own heart. Always trust yourself.