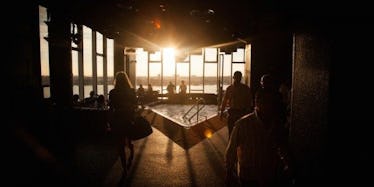 Top Most Amazing Feats Of 2012
Stock
2012 has been filled with daredevils running, biking, kayaking, and skydiving from space. It seems that this was a year when everyone wants to push themselves to the limit.
Is it because they believe the end of the world is coming? Probably not.
Either way, these are the most amazing feats of 2012.
10. Renan Ozturk, American Artist
Renan Ozturk is a climber, artist, and filmmaker who recently braved Shark's Fin on the mountain Meru in the Indian Himalaya and made a film about it. Before that, he has been held at knife-point in the deserts of Chad and suffered a traumatic head injury while backcountry skiing in the Tetons.
9. Ramon Navarro, Chilean Surfer
Navarro is both a professional surfer and environmentalist who is working with the Chilean government and conservation groups to turn the Punta de Lobos stretch of coast into a national park. He has a reputation for seeking out and riding giant surf around the globe, seen here riding a 15-foot wave.
8. Mike Libecki, American Explorer
Mike Libecki's an explorer who has climbed, skied, and explored some of the most dangerous areas int he world, including Afghanistan. He is seen here climbing icebergs, where just getting to the site from the boat is a major risk as the floating ice could flip, causing him to drown or be crushed.
7. David Lama, Austrian Climber
Austrian climbing prodigy David Lama became the first to free climb the 3,600-foot Southeast Ridge and the Cerro Torre peak this year. Technically speaking, this feat is more challenging than climbing Mount Everest as years often go by when no climber is able to accomplish this feat.
6. Jeremy Jones, American Snowboarder
In 2012 for his latest film project Further, snowboarder Jeremy Jones navigated winds capable of knocking a rider from his feet, lived for days on end in subzero temperatures, and negotiated some of the most challenging avalanche terrain on the planet.
5. Lizzy Hawker, British Ultrarunner
Champion trail ultrarunner Lizzy Hawker is seen here running through the mountains surrounding Chamonix, France, days before running — and winning — the Ultra-Trail du Mont-Blanc for the fifth time, a feat no man or woman has accomplished ever before.
4. Shannon Galpin, American Humanitarian
Shannon Galpin travels miles by bike to bring attention to women's rights in Afghanistan. She's mountain biked 140 miles across the Panjshir Valley, and has worked through the country's most volatile periods to bring humanitarian aid to the region.
3. Steve Fisher, South African Kayaker
Fisher and his team successfully kayaked the Congo River's 50-mile Inga Rapids. The first stretch took four days, but the team was prepared after spending three weeks training on Uganda's White Nile.
2. Josh Dueck, Canadian Skier
On February 3, 2012, Josh Dueck performed the world's first sit-ski back flip on a massive jump at Powder Mountain Catskiing outside of Whistler, British Columbia. Previously, he won a silver medal at the 2010 Winter Paralympics in the men's slalom sit-ski event.
1. Felix Baumgartner, Austrian BASE Jumper
Felix Baumgartner recently made history when he jumped 24 miles from space to the Earth's surface. He's seen here about to jump from the capsule of the Red Bull Stratos during the final manned flight in Roswell, New Mexico, on October 14, 2012.
Top Photo Credit: Getty Images