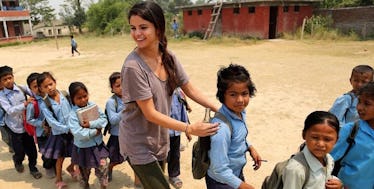 Give Back: 8 Charities Millennials Should Know About And Support
UNICEF/Josh Estey/MataHati
In a world where Millennials pour ice water over their heads to increase awareness about ALS, it's no wonder that charities around the world need your help now more than ever.
The time when donating was enough to ease our consciousness is long gone.
There are countless more ways to get involved — donating is simply one of them.
Whether it's an environmental cause or supporting equality for women around the globe, there are enough ways to get involved for everyone.
Getting involved is easy and quick. Better yet, it doesn't require much of your time and looks good on your CV (just saying, class of 2015.)
The goal is to increase awareness, educate and kick some disease's ass!
Here are eight charities that need your help right now:
Sitting in a small café on a sunny day in London, I couldn't help but turn my attention to two men at the opposite table.
The enthusiasm was contagious as they were pitching an idea for a charity called Wear Your Support to a third man sitting next to them.
Clearly amused by my interest in the conversation, they turned their heads and asked, "What do you think?"
To say I was amused by their reactions (and they were clearly not offended by my eavesdropping) would be an understatement.
But, as feelings are contagious, I couldn't help but get excited.
Wear Your Support is dedicated to changing consumer behavior, as the money goes directly to fundraising organizations.
And did I mention you get a pair of unique (and high quality) earphones in return? Better yet, pledging couldn't get any easier.
You can find the cause you want to support then pledge to buy the product on offer.
When the target number of pledges is hit, they will deliver your item within 30 days to your front door.
Talk about a win-win situation!
Why hit the gym when you can take part in a Tough Mudder and explore the beautiful countryside of Great Britain in the process?
The cure for cancer would undoubtedly be one of the greatest human achievements the world has ever seen, and thanks to founder Jamie Mills, you can now help fund cancer research through athletic challenges like hiking through the Alps, or my favorite — a parkour like you've never witnessed before: the Tough Mudder!
You did the ice bucket challenge — congratulations! Unfortunately, our fight with ALS is a never-ending battle that needs our continuous support.
The ALS Association is the perfect charity dedicated to fighting ALS. You can get involved by simply walking when you take part in the Walk to Defeat ALS.
Whether you're an army of one or 100, every step counts.
May is Melanoma Awareness Month for a reason! The Andy Caress Melanoma Foundation's primary mission is to educate people.
Skin cancer can be prevented and treated if it's found at an early stage, so let's start learning today.
As men are joining the feminist movement, our determination toward equality is stronger than ever. While our progress is strong, there's still work to do.
This is where the Global Fund for Women steps in. Its job is to advance women's rights around the world through its advisory group and grant programs.
Its mission statement is strong and simple: "Be a voice, not an echo."
The foundation is specifically focused on advocacy for equal opportunity, and accessibility of the three "Es" (education, employment and entertainment) to those with a physical disability.
Through rehabilitation programs, counseling and raising awareness, the foundation has primarily been marketed through events like the Rights of a Child or Elimination of Discrimination Against Women.
Ask Oscar winner Natalie Portman about her love life, and she'll shut you down. But mention microfinance, and she'll gab you for hours.
FINCA is the leading international microfinance institution offering financial help to small scale businesses that have been turned down by traditional banks.
Its ultimate goal is to combat poverty by creating employment, raising family incomes and reducing poverty worldwide. Spread the word, shop the gift catalog or honor someone today.
The time when being environmentally conscious was referred to as being a hippie has long passed. In my case, it's even a compulsory course taught in business school.
Our environment needs more attention than ever, and it all starts with the Global Green Initiative.
Through programs, education and financial support, the non-profit organization strives for a greener community we can all be part of. So what are you waiting for?