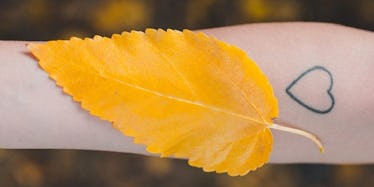 8 Micro Autumn Tattoos That Will Make You Fall So Hard For Cuffing Season
Sanja Lydia Kulusic/Stocksy
Autumn, aka, cuffing season, is the wonderful time of year when we just want to snuggle up next to someone special. There's something so magical and romantic about the cool, crisp air that puts us under a spell. We're all wrapped up in sweaters, cozying up by warm fires, and drinking Pumpkin Spice Lattes. You feel like it's the ultimate time of year to open up your heart and fall hard for someone. I mean, we're already falling hard for the season, and what better way to show your love for cuffing season than by getting a micro autumn tattoo? If you're looking for fall tattoo ideas, then just think of everything you love about this time of the year.
The fall colors alone would make beautiful tattoos, but there are so many wonderful mascots of the season, like leaves, pumpkins, and even apple pie. They would all make super cute tattoos that you could get just about anywhere on your body. Plus, getting a micro autumn tattoo is a great way to celebrate this magical season. You'll always have a little piece of fall with you, even when winter starts to creep up on us. If you need a little more inspiration on what tiny autumn tattoo to get, here are eight ideas.
1. A Vibrant Orange Leaf
The first thing that comes to mind when thinking of autumn is the leaves changing colors on the trees, and falling to the ground. That's why getting this leaf tattoo would be absolutely perfect to honor the best season ever. Not to mention, it will look super cute with all of your leaf pile pictures. The subtle change in colors from red to orange, to yellow on this particular design is really pretty.
2. A Tiny Arrow
You can get this tiny tattoo anywhere on your skin, but the foot is an especially cute spot. The arrow pretty much represents cuffing season, because, duh... Cupid's arrow. You're looking for someone to snuggle with under a cozy, plaid blanket, so focus on your aim.
3. This Multi-Colored Fall Leaf
This is a cute take on the fall leaf. The colors don't blend; instead, they're very geometrically placed in the leaf, which gives it more of an artistic look. Get tatted up with this design on your wrist or on the back of your neck.
4. A Slice Of Pumpkin Pie
Fall is all about pumpkin -- pumpkin carving, Pumpkin Spice Lattes, pumpkin patches, and of course, pumpkin pie. This cute little slice of pumpkin pie will always sweeten up your day. You can even get the whipped cream on top, and now it's making all of us so hungry.
5. A Halloween Jack-O-Lantern
This pumpkin tattoo is so small, it can go right on your finger. You can celebrate Halloween all year with this adorable jack-o-lantern. You can also get a pumpkin design without the carvings, so it's less Halloween and more general fall.
6. A Black Cat
While we're on the Halloween trend, you can also get a black cat tattoo. This design is cute, perfect for any cat lover, and can go on your wrist. Unlike other black cats, you're fine with this one crossing your path.
7. A Starbucks Cup Filled With A PSL
Pay homage to your favorite fall drink, the Pumpkin Spice Latte, with a Starbucks cup. Carry your PSL with you everywhere, no matter the season. You don't have to wait for it to come back on the menu, because you always have it.
8. A Tiny Acorn
This tiny acorn tattoo is just too cute for words. It goes beautifully with the fall foliage. You'll blend right in with the leaf piles and pumpkin patches.