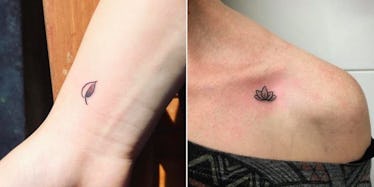 25 Micro Tattoos That Will Make You Look Cute And Badass At The Same Time
It's no secret that tattoos are pretty badass. I happen to be a really big fan of body art, so every time I see some seriously awesome ink, it basically takes everything in me to stop myself running to the nearest tattoo shop and covering myself from head to toe in tattoos.
If you've been lusting after a little ink, but don't have the balls to deck your skin out in some big, bold designs, don't worry. It appears there is a growing tattoo trend that will let you rock some epic ink on the down low.
Yep, micro tattoos are on the rise and now lots of people are swapping the sprawling skinscapes for a variety of low-key tattoos that are not only cute AF, but also easy to cover up.
From teeny tiny symbols and impossibly small geometric patterns to all kinds of elegant little animals, there is a seemingly endless amount of ways you can spruce up your skin with some inconspicuous ink.
So we rounded up some of our favorite micro tattoos on social media to give you a little inky inspiration. Take a look at the pictures below to see these tasteful tats.
If you're looking for the perfect way to flex a little ink...
...you can't go wrong with an adorable micro tattoo.
You can bring your skin to life...
...with some ink that reminds you to shoot for the stars.
Get a tat that vibes with your tribe...
...or opt for a subtle symbol that turns you into a trending topic.
You can turn over a new leaf with a fresh ink design...
...or embrace your wanderlust with a petite airplane.
Get a little blooming lotus on your shoulder...
...or fall head over heels with an itty bitty heart.
You can be the mother of dragonflies with a dainty wrist tattoo...
...pay tribute to your pup with a delicate doggy design...
...show your kitty you care with a purrfect cat tat...
...or get some ink dedicated to your one true love: pizza.
You can embrace your inner mermaid...
...and opt for a design that really makes a splash...
...by scoring some adorable tats inspired by the sea.
You can't go wrong with a pint-sized palm tree...
...or a cute AF cactus tattoo.
Some teeny tiny triangles...
...an itsy-bitsy ice cream cone...
...or a runty ribbon wrapped around your finger.
The micro tat possibilities are pretty much endless.
So no matter what kind of design you go for...
...you're sure to find a mini tattoo that you'll like beary much.