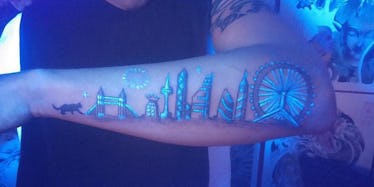 Glow-In-The-Dark Tattoos Are Here To Solve Your Ink Commitment Issues
These days, tattoos are more mainstream than ever.
But getting a tattoo is still a huge decision that can come with some seriously sh*tty consequences if you don't fully think things through. No one wants to be stuck with a tattoo they regret for the rest of their life.
So if you've been itching to get some ink but feel a bit unsure about making a big body art commitment, you'll be glad to know you can get that badass tat -- and hide it, too!
Now, you're probably wondering how this is possible.
The answer is quite simple: black light-responsive tattoos!
Unlike regular tattoos, these glowing black light tats, also called UV tattoos, can only be seen under black lights.
Otherwise, once healed, these things are basically undetectable in normal light.
Now there's nothing stopping you from getting that incognito ink you've had your eye on or taking your current tattoos to the next level with some gorgeous, glowing accents.
Take a look at the pictures below to see these awesome glow-in-the-dark tattoo designs.
You can illuminate your skin with a "Harry Potter" spell...
Get a finger tat that feels the Force...
...or go for delicate glow-in-the-dark designs.
You can brighten your back with some angelic wings...
Lighten your skinscape with some flashy fireworks...
...or show off a soft shoulder tat.
You can deck out your arm in a dreamy sleeve that appears when the sun goes down...
Ink an invisible tattoo on your ear...
Flex some fluorescent flurries...
...or opt for a radiant rose from "Beauty and the Beast."
You can bring your tree tattoo to life...
Brighten up your butterfly body art...
Add some iridescent accents to your ink...
Choose a design that shines bright like a diamond...
Conceal a Cheshire Cat on your back...
...or hide your heart on your sleeve.
You can't go wrong with some beaming body art...
That glows brighter than the moon...
...and all the stars combined.
There are all sorts of ways to get in on this glowing tattoo trend...
So the possibilities of coming up with a tattoo idea...
...are limitless.