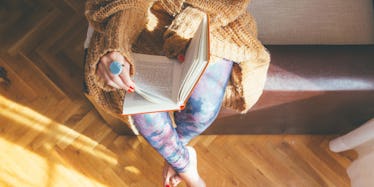 5 Memoirs By Style Icons That Will Take You From Intern To #GirlBoss
In the world of fashion, you can never know too much. As they say, knowledge is power. In this industry, that statement rings true.
If fashion is your passion, the more you know, the better. These books have it all for the people who want it all: insider tips, laugh-out-loud jokes and personal accounts of what it's like to work in the land of glamour and pretty outfits.
But after reading these must-have tales, you'll realize the industry is so much more. So, make some room at the top of your bookshelf because these are not books you want collecting dust on the coffee table:
1. "Mademoiselle: Coco Chanel and the Pulse of History" By Rhonda K. Garelick
It's important to your know history, but it's also important and fun to know fashion history. Enter this biography of the queen herself, Coco Chanel.
Not only is her influence on fashion long-lasting and iconic, but her impact on culture and history is equally withstanding (although sometimes forgotten). She built her empire from the ground up, and she not only established a brand, but also a lifestyle. This biography is for the lover of fashion and history buff combined, as it encompasses both in an honest, detailed manner.
2. "Tales from the Back Row: An Outsider's View from Inside the Fashion Industry" By Amy Odell
Published in the fall of last year, this hilarious and candid novel is one you'll gobble up in one sitting. It reads like a blog post written just for you, which is no surprise, as the author is a fashion-blogger-turned-editor of Cosmopolitan.com (aka, it doesn't get much better than this).
With tips on everything from what it's like to interview Anna Wintour — yes, that Anna Wintour — to how to get noticed by a street style photographer during Fashion Week, this tell-all tale is essential for any woman working her way up the industry ladder.
3. "Grace: A Memoir" By Grace Coddington
Grace Coddington recently stepped down as Vogue's creative director, but her expertise and legacy will continue to impact the world of fashion. All you need as proof of that is her memoir.
The once iconic model-turned-fashion-editor at British Vogue became the creative director of Vogue US. She made her way up the ranks, and she wrote all about it for us mere mortals to appreciate. It's truly a classic, written in the graceful voice of Grace herself.
4. "#Girlboss" By Sophia Amoruso
The CEO of Nasty Gal, Sophia Amoruso, offers an inside look into the business side of fashion and how to turn a passion into a career. She does so in a no-nonsense, funny way that entices readers to get off their butts and turn that vision board into reality.
She started out dumpster-diving and committing crimes, and she is now the head of one of the biggest retailers in the world. If that's not motivation, I don't know what is.
Take a page out of her book — literally stick it on your fridge if you need to — and learn how to maneuver your way around those pesky haters. No one knows the rocky path to success in the fashion world better than this girl.
5. "The Woman I Wanted to Be" By Diane von Furstenberg
Here's a memoir from the maker of the wrap dress herself, DVF. It's everything you could want in a fashion book: glitz, glamour, lessons, love, tips and history.
She tells it like it is (or was) in a readable, simple way. She's known as one of the kindest women in fashion, and this book will tell you why. She maintains a thriving business without knocking anyone down in the process, which is an invaluable lesson she reiterates throughout.
DVF's voice of wisdom is present all the way through, imparting a sliver of insight that will remain in your head long after the last page has been turned.
While there are many other tales about what it's like to work, live and breathe all things fashion, these five books will keep you interested and motivated enough to chase those industry dreams. Whether you want to work in front of the camera or behind it, the tips and lessons within these pages are just what you need to hear to get (and remain) inspired.