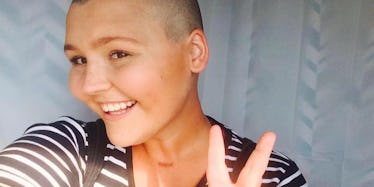 How You Can Help Lift The Spirits Of One Girl Fighting Childhood Cancer
Facebook
September is Childhood Cancer Awareness Month, and people have been showing their support by donating to research groups and families and honoring those who have been affected by the disease.
One girl, however, has a very specific wish.
Emary Langhorn, a 17-year-old from Parkville, MO, has been fighting Hodgkins lymphoma for the past three years. She was told her treatment would be quick and easy. However, that hasn't been the case.
In fact, Langhorn has been completely unresponsive to chemotherapy. As a result, she has been placed on the waiting list for a bone marrow transplant, along with the thousands of other people also in need.
Despite the setbacks she has faced, Langhorn has remained positive through it all.
"I have a really awesome support system and so many people who haven't given up on me," she said. "That's what makes this all worth it."
In the meantime, Langhorn has dedicated herself to three of her favorite things: reading, writing and, most importantly, music.
One of her favorite artists is Taylor Swift.
"She is so relatable, kind and strong. She is the type of woman I want to be seen as," Langhorn said. "She's a class act and impresses me more and more every day."
Naturally, when she found out Swift was coming to Kansas City, she immediately bought tickets to go with two of her best friends.
"Floor seats and everything," Langhorn said.
She also planned what to wear, since she wanted Taylor to notice her and invite her to Loft 89,  an exclusive backstage hangout.
In the midst of counting down the days until the concert, Langhorn received even more good news: The time had come for her to receive her transplant.
She was elated.
"We are in the process of getting me cancer-free and making sure it never comes back! The transplant will trade my weak immune system for a healthy one, so it can fight off my cancer for me," Langhorn explained.
Things were starting to look up for Langhorn.
She was going to see Taylor Swift and receive the transplant she had been waiting for. All of the dances and events she had missed due to her battle with the cancer were long forgotten. She was finally going to do what she wanted and get what she needed.
But this all changed when she found out the two events were going to conflict. The transplant was pushed up, so she is now in the hospital for the next month.
Due to her positive attitude, however, Langhorn isn't going to give up.
After getting the idea from a friend, she went on social media to post a simple request.
Langhorn wants Taylor Swift to visit her during the 48 hours Swift will be in Kansas City.
Langhorn's hospital is just a short 10 minutes from the venue Taylor will be playing at.
"I know this is a huge long shot, but what do I have to lose?" Langhorn posted. "I have faith in you, Taylor Swift!"
Langhorn's message to Taylor Swift has gone viral. LeAnn Rimes even retweeted the request.
Langhorn's friends were among the first to share the post, calling her "inspirational" and saying Taylor would be lucky to meet her.
"I've been through a lot and have done a great job of keeping my spirits high," Langhorn said. "You won't find someone who this would mean more to."
To help get Taylor's attention, you can share Langhorn's message here.
If you'd like to do more (and you happen to live in the Kansas City area), Langhorn is also urging anyone who wants to visit to do so. Hope to see you soon!