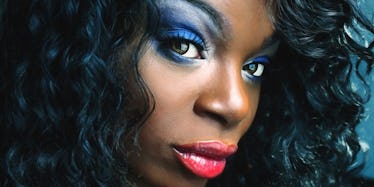 10 Magical Makeup Looks That Will Steal The Show At Your Fourth Of July Party
Pixabay
The Fourth of July is a perfect time to get your red, white, and blue on from head to toe... eye makeup and nail art, most certainly included.
Show your main girl squad you're the patriotic belle of the ball by transforming your everyday makeup look into something magical for the holiday.
I personally tend to go for a classic red lip, because I'm usually not that coordinated with any kind of makeup brush. For those of you who are in the same boat as me, these makeup tutorials below are easy to follow along with.
Steal the show at the barbecue with a beautiful blue cat eye and dramatic glossy red lips. The fireworks don't have to be the only things that shine.
1. Striking Red, White, And Blue Eyes
Nothing screams patriotic more than decorating those baby blues with red, white, and blue eyeliner.
2. A Fierce And Bold Red Lip
As Taylor Swift once said, "I got that red lip, classic thing that you like."
3. Baby, You're *Sparkling* Like A Firework
Baby, you're a firework… or, at least, you could really look like one with this gorgeous glittery look.
4. Keep It Classy... And Dramatic
A cat eye is a pretty classic look, but this patriotic take on it will seriously have the spotlight shining on you all night long.
5. Conquer The Humidity With This Sweat-Proof Look
It's hot AF out there, so this sweat-proof makeup tutorial will ensure you look refreshed all day and all night.
6. Master The Cat Eye Like A Goddess
If you're all about those cat eyes, and want to make sure yours is perfectly patriotic for the holiday, try this triple cat eye.
7. Starry Eyelid Art
Use your eyelids as a red, white, and blue canvas.
8. Glitter It Up
This look is oh-so glittery, it will bring all of the fun to any Fourth of July plan.
9. The Best Of Both Worlds: Subtle, Yet Bold
This look is not only perfect to rock on the Fourth of July, it works all summer long, too. The eye makeup is subtle, and the bold lip will make such a statement.
10. Decorate Those Lips
You'll basically be a makeup magician by the time you master this look.