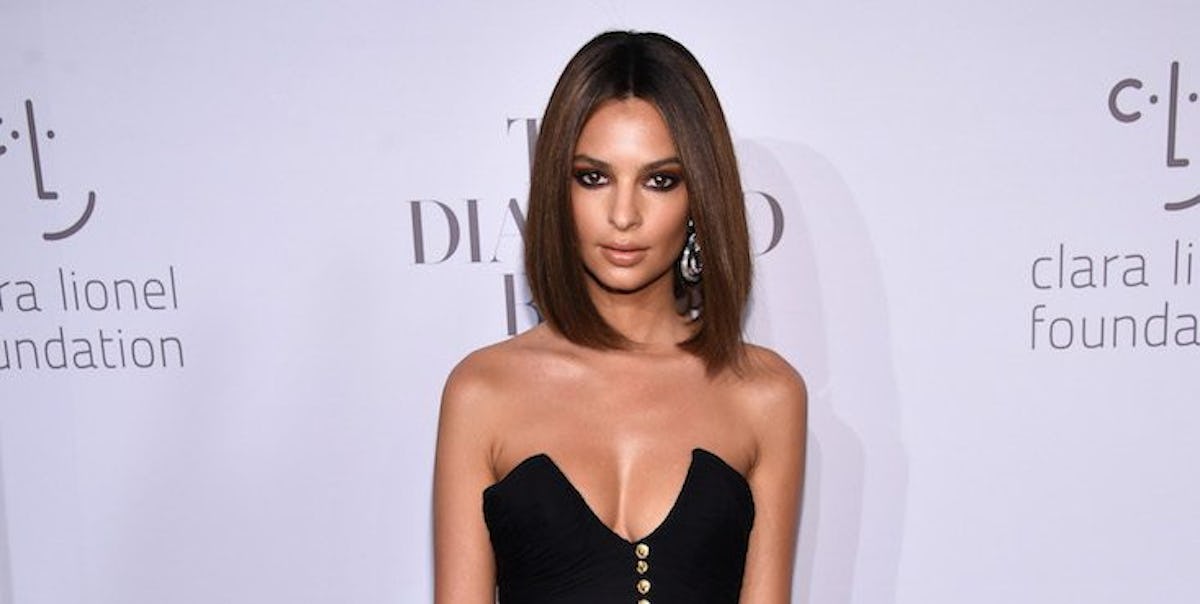 A Magazine Photoshopped Emily Ratajkowski's Lips And Breasts And It's Not Okay
Getty/Dimitrios Kambouris
Women are subject to cultural whims regarding our appearances, and it's exhausting. From long necks to wide hips to tan skin, what's considered beautiful in one region of the world may be totally passé in another country. And with societal pressure comes internal strife, insecurity, and the desire to change ourselves to suit the pervasive attitude at one particular moment in history. It's impossible to please everyone, though, and enduring criticism over your looks is universal for women. Case in point: after a French magazine altered her lips and breasts, model Emily Ratajkowski blasted Photoshop on Instagram.
The British-born Ratajkowski graces the cover of Madame Figaro this month, which should be a totally lovely experience. However, when she saw the cover, she noticed that both her lips and breasts had been digitally minimized. I know what you're thinking. First, this is a woman who posts nearly-nude pictures on a daily basis to 14 million plus Instagram followers. Second, this magazine actually made her lips and breasts smaller? As if thousands of women aren't getting lip injections and breast implants right now? Interestingly enough, the magazine did reduce the size of Emily's features, and she had an emotionally-packed response to their interpretation of what the ideal-Emily should look like.
"Everyone is uniquely beautiful in their own ways," wrote Ratajkowski. "We all have insecurities about the things that make us different from a typical ideal of beauty. I, like so many of us, try every day to work past those insecurities. I was extremely disappointed to see my lips and breasts altered in photoshop on this cover. I hope the fashion industry will finally learn to stop trying to stifle the things that make us unique and instead begin to celebrate individuality."
Here are the two images, the doctored one is on top and the original one below.
You can see that plain as day, Ratajkowski's breasts have been Photoshopped. Not only do they appear smaller and more pert, they also appear more symmetrical. Emily's left breast has been reduced to perfectly match her right one, even though in most women, the left breast is always slightly larger than the right. Her lips are more subtly diminished, but certainly smaller than in the OG image.
The fact that the magazine chose to Photoshop a hugely-successful model in this way is insulting to Ratajkowski and women in general, and it's body shaming. The lip shrink-down is especially problematic, given that many women of color boast full lips and have been culturally shamed for it. Intended to instantly boost a user's attractiveness, "beauty" filters on Snapchat sometimes leave black women with a thinner pout.
On Instagram, fans found solace and respect in Ratajkowski's laid-bare words about battling insecurity every day. "I wasn't really a fan before," wrote one commenter, "but honestly...this takes courage." Many echoed this statement: "If someone looks like that and gets Photoshopped, what hope is there for the rest of us?" Well, that's exactly the point. We are all subject to someone else's perception of our beauty, including and especially famous models. And just because Ratajkowski chooses to post and share nudes, that doesn't deny her of her right to have feelings when her image is manipulated.
Overall, Ratajkowski being Photoshopped by a French magazine is ironic because by and large, women around the world are obsessed with French society. They want to learn how to eat, dress, act, and have casual lunchtime affairs like Parisian women. And what's the crux of chic French culture? Never being overdone, looking effortless, and appearing like you didn't try.
Well, Madame Figaro, looks like you tried way too hard this time.