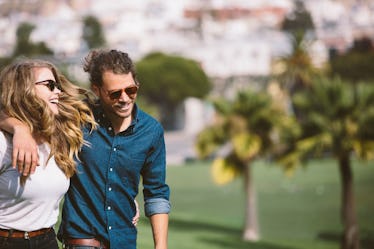 Fall Is Coming: 8 Changes To Anticipate At The Start Of A New Season
Stocksy
Favorite seasons are always up for debate. You have the people who love summer and lying on the beach, the ones who can't wait for spring and flowers and the people who enjoy snow and anticipate winter all year.
But autumn fans have great reasons for it being their favorite season: It's back to school, back to comfort and back to absolutely beautiful.
Here are the eight things to look forward to this autumn:
1. Sweat-Free Commute
One of the worst things about summer is commuting in the horribly humid weather. If you're lucky enough to jump in an air-conditioned car, you may not be that affected.
But for those of us walking to a train or a bus with limited AC, and then walking a few blocks to work, it can be incredibly disgusting. Who wants to walk into work all sweaty? No one.
Finally, the weather will provide a comfortable trek to work.
2. Cardigan Weather
It's finally time to pull out your favorite cozy cardigan that will keep you perfectly comfortable in that crisp fall weather.
It's right in-between the "I want to take off all my clothes because it's so hot" and the "I need a winter jacket, sweater, gloves and hat to stay remotely warm." Cardigan weather is the happiest medium, and it doesn't hurt that they are adorable additions to any outfit.
3. Foliage
Even people who love summer can't deny the beauty of walking through a park when the leaves are changing colors.
Everyone's Instagram game steps up when the natural backdrop is this amazing. You can spend hours sitting in a park and taking in the beauty of nature.
4. Pumpkin Picking
Flannels come out, and you and your friends head to the nearest farm for apple picking, pumpkin picking or a good old-fashioned hayride. No one can be unhappy frolicking through rows of pumpkins while sipping on warm cider.
It also makes for a great round of Facebook photos. For those of us who lack artistic inclination, carving out the pumpkin later may be a bit harder than the picking part.
5. Holidays
Fall has Halloween, Thanksgiving and the countdown to Christmas and Hanukah! Regardless of age, who doesn't love dressing up for Halloween and having an excuse to eat a ridiculous amount of candy?
As for Thanksgiving, the traveling might be a pain, but once you're sitting with your family and shoveling food onto your plate, it's amazing.
Next thing you know, Christmas music will be playing throughout stores all around.
6. Start of Cuffing Season
Everyone loves cuddling, and cuffing season is the prime time for it. This is the time when you choose someone to spend the rest of the fall and winter with. You find the person to sip hot chocolate and watch Netflix with, while the weather outside gets a bit frightful.
Pumpkins aren't the only things to pick out and take home in the fall.
7. The Food
Pumpkin-flavored everything, salted caramel, candy corn and cinnamon are the comforting flavors of fall.
Whether you're enjoying a caramel apple at the pumpkin farm, curling up with a hot bowl of soup or sipping on a cinnamon latte in the park, it just feels right.
Nothing beats a warm meal next to a fire as the weather gets crisp.
8. Sports
It's the end of the MLB season, but it's the start of NFL, NHL, NBA and college sports season. Nothing says fall like a tailgate outside a big game.
Beer, wings and other game-day food will fill your weekends, and since bathing suit season is over, you can fully indulge. Grab your jersey, tickets and friends, and head out to support your team.