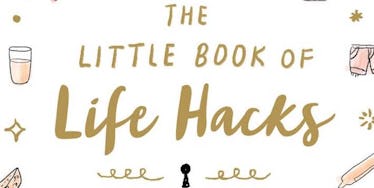 New Book About Life Hacks Is The Perfect Gift For College Grads
Yumi Sakugawa
If there's one thing we millennials can appreciate, it's a good hack.
We're busy people, and sometimes we need a little shortcut, whether it's a quick way of preparing dinner or a fast alternative for ironing clothes without actually taking out the iron.
Author Yumi Sakugawa knows this well. Her May release, The Little Book of Life Hacks: How To Make Your Life Happier, Healthier, And More Beautiful is full of illustrations and quick guides to getting things done.
College grads and 20-somethings in the work force will definitely love all that Sakugawa has explored.
As a blogger, illustrator, and self-proclaimed "fake adult," she decided to put her skills to good use. It was time for an outlet to offer realistic ways to get things done, and after working for a life hack website, she was fully equipped to do so.
"I'm a total nerd for self-help and household tricks, so it seemed like a waste to not turn all this material into a book geared toward young women and college graduates who want a primer on basic life skills," Sakugawa said. "If just flipping through the book to a random page and seeing all the colors and drawings make you smile and uplift your mood for just a few moments, I feel like I've achieved something special."
And she definitely has.
The book is divided into several chapters, including "DIY Beautiful," "Feed Yourself," "Staying Runway Ready," "Love Your Body, Love Your Mind," among others.
The Little Book of Life Hacks, $12, Amazon 
Let's examine a few, shall we?
"Non-Rice Things You Can Make With A Rice Cooker" is one of the fun topics you'll find.
If your kitchen skills rival those of yours truly, boiling water is often a challenge.
I'm all about speed (plus I'm Italian), so I usually whip up a quick pasta dish -- and I understand the frustration of being overwhelmed by carbs. Knowing ways to add some protein to your diet with a rice cooker-made frittata makes life a lot easier.
But the book digs deeper and offers other skills you can use in important situations outside of the kitchen.
If you're applying for a new job or going on a first date, Sakugawa also offers ways to boost your confidence.
She goes beyond trivial tips and tries to dig into real issues.
"Ultimately, no matter where readers fall on the lifestyle spectrum, I want [them] to have a sense of joyful autonomy over their day-to-day lives to make it special and meaningful for themselves," she said. 
And there's one more perk of this self-help read.
"As an Asian American illustrator, it was an incredible opportunity for me to create this super-colorful, sometimes surreal and diverse world where women of different ethnic backgrounds and body types are hanging out, having fun, and wearing killer outfits," she said. 
Helpful tips, cute drawings, and girl power? Sign us up!