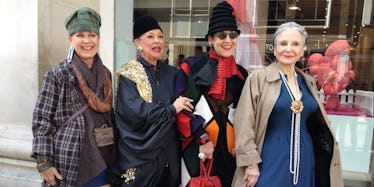 What I've Learned About Love, Life And Fashion From My 70-Year-Old BFF
Ari Seth Cohen
My best friend is 70 years old, and she is more stylish and fabulous than I'll ever be.
When we walk down the streets of New York together, people stop and stare.
And they aren't staring at me.
They are looking at her in her colorful coat and signature paper towel hat.
People always stop us to admire her outfits and ask if they can take a picture of her.
She thanks them and poses gracefully, and she usually invites them to the party she's throwing at her apartment in the West Village the following week.
My best friend is Debra Rapoport, and she is one of the stars of the Advanced Style series, which celebrates the life and style of vital older men and women.
Last summer, Debra and I celebrated milestone birthdays together.
She turned 70, and I turned 21.
We drank wine, contemplated life and reflected on four fabulous years of friendship.
I first met Debra when I first came to New York as a lost and lonely 17-year-old.
Ever since, she has been my friend, fashion consultant and confidant.
Here are five essential lessons on life and aging she has taught me and that will continue to inspire me as I grow older:
1. Aging doesn't always look the way you think it does.
I used to picture myself at 70 as an old lady with gray hair and brittle bones who sat alone in my house and played cards all day.
But when I met Debra, her bright pink hair and outgoing personality completely shattered this image.
Her schedule is always packed, and she is constantly on the go.
She's teaching workshops, meeting with photographers for photoshoots and hosting parties for her never-ending list of friends who visit the city.
Age does not determine your ability to stay vital and outgoing.
2. Start taking care of yourself now.
We take our bodies and health for granted, but it's important to treat our bodies with love and respect, regardless of our age.
Debra is a pro at this.
She listens to her body and knows what it wants to eat, how it wants to move and what it wants to wear.
She wakes up early for 7 am yoga and cooks a pot of fresh oatmeal for breakfast each day.
She prepares nutritious meals with ingredients from the farmers market, but she also indulges in chocolate and adds salt to her salted caramel ice cream when she wants.
Balance is key.
3. Black is boring.
Being normal and blending in is too easy.
Embracing color in your life does not mean you have to dress in bright patterns.
It's about mixing things up and changing areas of your life that feel black and worn out.
Debra has taught me to not only be intentional about the way I dress, but also in the way I express myself.
None of us should have to wait 50 years to start being bold and stop caring what other people think.
Express yourself freely, and people will be drawn to you.
Don't be afraid to stand out.
4. It's never too late.
"Honey, don't worry! You're so young and have your whole life ahead of you to figure it out," Debra always says.
When she tells me I have nothing to worry about and that it will all work out, I know I can trust her because she has years of experience under her belt.
Sometimes I feel like I will never have another opportunity to pursue my passions and find out who I am if I don't do it now.
But, I forget that it's never too late to discover new interests and switch paths.
Debra has been everything from a professor to a designer, and she speaks fondly about each career she has pursued.
She only recently began her professional modeling career after she turned 65, and she looks more confident in her skin than many young models I've seen.
It's OK to take a deep breath and slow down.
There is plenty of time to figure things out.
5. Don't be afraid of getting old.
Growing old isn't something we should fear; it is something to look forward to.
Debra has taught me that even though our bodies age, we can still choose to stay young at heart.
You can stay young by seizing opportunities, embracing love and taking care of yourself.
More important than your age is who you are, how you feel and how you choose to express yourself.
Age truly is just a number.