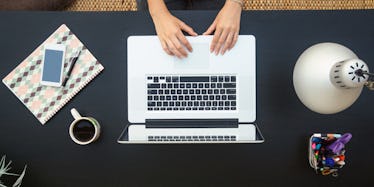 9 Things I Learned During My Summer As An Unpaid Intern In New York City
Stocksy.com
As a journalism major, you sort of expect you'll be working for free at some point in your life. So when I landed my first editorial internship, I was stoked, even if it was unpaid.
The spring semester was nearing an end and people started asking what my plans for the summer were. When I told them, they asked if I was getting paid. The answer was a quiet "No..." quickly followed by, "It's for school credit."
But if you've been in my shoes you know the money doesn't matter, because there are plenty of girls who would kill to be there and you know it'll eventually pay off.
That mantra is something I quickly started repeating to myself over the next several grueling weeks. However, I gained a lot from my work experience, lessons that all potential interns should keep in mind before embarking on their own summer internship .
Commuting is a bitch. An expensive one.
If you're spending time in NYC, you have to spend money on MTA fees or else you'll be spending a small fortune on taxis and Uber rides. If you do neither, you could just walk your legs off and see if you can make the Guinness Book of World Records or something.
Get ready to work. Hard.
On my first day, I had to help set up a photo shoot with two other interns. We had to go to this decor store all the way in the Upper West Side, get the props for the shoot and then carry them all the way down to Tribeca, where the shoot was taking place. This was hard physical labor, guys.
During this 30-minute trip back downtown, the two other interns and I had to carry trash bags filled to the brim with wooden planks, a tiny sofa, a shopping bag filled with ceramic dishes and metal cutlery.
Walking to the subway, each of us would take breaks just to rest our arms. We'd wince because our faces were covered in sweat and wish that we had another hand to help us with all that stuff.
Internships will make you work, both physically and mentally. You have to be willing to handle any task your bosses throw at you.
You meet great people and develop close bonds. 
The best part about internships is the people you spend time with are your age demographic. You already know you have a lot in common since you're interning at the same place. Also, you're slaving away together that summer. According to the Association for Psychological Science, shared pain brings people together. Perfect recipe for friends!
You get to enjoy after work happy hour.
Now that you've all become such good friends, you can discuss the ups and downs of the workday with margaritas. If you frequent the same bar or restaurant enough, you can become friends with the bartender. Free drinks!
You make useful industry connections.
Developing relationships with PR contacts is extremely important for aspiring writers. You write something, they like it, then they remember you. Wahoo! Contact for the future!  Remember, nowadays, it's all about your network.
Just because you're working, doesn't mean you're not having fun.
You'll be sent to cover special events after work. These events could range from macaron and wine tastings to going to the NYC Ferrari dealership to see the big reveal of next season's hottest ride to events at Ford Models.
Not only is that completely awesome, but you also get to make more connections at industry events, adding to that oh-so-important network of yours.
One time another intern and I had to go the Zac Posen headquarters to return a borrowed dress. The entire time we were just thinking, "What if Zac just comes strolling out while we're here?" It's exciting and fun.
You perfect the art of not-gawking.
Celebrities often frequent these glamorous events you're covering. It's unprofessional to gawk every time you see a super hot A-lister --  you make your company look bad. Nobody wants that. So instead, you become an expert at pretending to not be fazed by celebrities.
Rejoice, sometimes there are "Summer Fridays."
These are the best kind of Fridays, the ones where you don't have to work. Sleep in and head to the beach!
Saying goodbye and going back to school after the summer is hard.
 All the fun times you've had and the friends you've made are the things you'll remember and value after your time as a summer intern. Eventually you'll swap days spent in the office and roaming the streets of NYC for days spent in the classroom and writing term papers.
It's okay, though, the experience is worth it. There's a pay off at the end and plenty of girls would kill to be in your shoes.