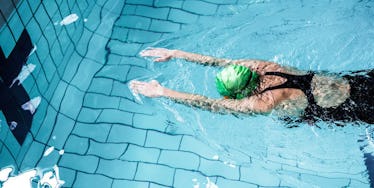 5 Things You Learn About Yourself Once Your College Swimming Career Ends
Shutterstock
My mother signed me up for swim lessons at the age of 2. Just two short years later, I was competing at my first club swim meet with The Woodlands Swim Team (TWST). At 4 years old, I was the smallest child running around the pool deck. I was chewing M&Ms to give me a burst of energy before I swam a 25-yard freestyle.
Eighteen years later, I finished my collegiate swimming career at Texas Christian University. I have spent the weeks following my last conference meet reflecting on my entire swimming career.
My biggest realization was this: Until a few weeks ago, there hadn't been a day in my life that I could remember swimming not being a priority. I fell in love with the water, the chlorine and the hundreds of black lines I spent my whole career chasing.
When you're a college senior, you begin to imagine what life will be like once swimming ends. But, you don't really know what will happen until it's actually over.
I have only spent a few weeks without swimming, but here are five things I've learned since my collegiate swimming career has ended:
1. I can't live without a schedule.
When my career ended, 20 extra hours in my week opened up. I quickly learned that without the strictness of a daily schedule, I've found myself struggling to use all of this extra time wisely.
Yes, I have used a lot of this time for job applications and interviews, but I often find myself spending a lot of time watching television shows and hanging out with friends when I could be doing more productive things.
In addition, coming up with a workout schedule has been the most challenging part of this transition to a life without swimming. I have plenty of time during the day to work out, but without a scheduled workout planned, it has been a struggle.
2. The smell of chlorine is more abundant than I initially thought.
Every swimmer has been told at least once in his or her life that he or she smells like chlorine. After swimming for so many years, I became immune to the smell of chlorine. I hardly noticed it anymore.
During my junior year of high school, one of my friends sat next to me one day and said, "You smell like chlorine. This reminds me of summer. I love it."
I was taken aback by the comment at first because even though I subconsciously knew I must have constantly smelled like chlorine, I hadn't realized how potent the chlorine could really be.
3. I now have to actually make plans to see my friends.
For years, there was a set time of day when I would see my friends. It was comforting to know I would get to see them every day and talk about my life with them. Now that my swimming career is over, there is no longer a set time of day when all of my senior teammates and I are in one place. This has forced us to actually make plans to see one another.
We are all so busy with our academics, job searches and social lives that it often becomes hard for all of us to be in the same place at the same time. I obviously keep in touch with my best friends via text and social media, but not seeing my teammates every day has been a new change. It has been hard to adjust to.
4. Water trumps land.
As I have been a water creature for all of my life, I have realized that land sports is not my strongest suit. Swimming works every muscle in your body with every stroke, and this isn't true for other forms of exercise.
Since my time out of the pool, I have been running, doing yoga and lifting weights. But, all of these activities do not compare to swimming. I was blessed with the opportunity to swim at the collegiate level, but during my time of finding other ways to work out, I've realized swimming truly is the best form of exercise.
5. Swimming teaches you about life, not just athletics.
I have gained valuable skills from swimming that have benefited me in all areas of my life. Swimming taught me the value of time management, organization, commitment, teamwork, passion and so much more. These acquired skills have allowed me to excel, both in and out of the pool.
Spending over 20 hours a week swimming and waking up at 5 am for practice for so many years has definitely taught me the importance of managing my time well, and it made sure I had all my schoolwork completed. Without this lifelong commitment to swimming, I wouldn't have learned how to use these skills interchangeably to be the best student, athlete, teammate, friend, daughter and sister I could possibly be. I will forever be thankful to swimming for giving me the necessary skills to be successful.
Swimming has given me countless opportunities, and I will forever be grateful for having been able to compete at the collegiate level. The opportunities TCU Athletics has given me over the past four years have been incredible, and I can't begin to explain all I have gained from getting to swim in college.
The moments after my last race were filled with a wide range of emotions. It was definitely a bittersweet feeling. Although my athletics career is over, I will carry the lessons I have learned from swimming with me for the rest of my life.