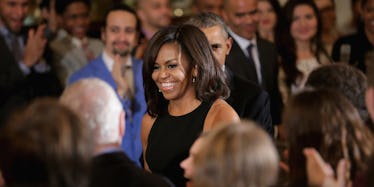 9 Ladies Who Are Redefining Feminism For Women In Every Field
Getty Images
Can a feminist be a fashion lover? It's always a good idea for ladies to make a solid investment into staple pieces. When a female feels empowered through her clothes, she becomes an unstoppable force in all realms of her life. Now guys, listen up: That is the woman to invest in.
As feminism is traditionally defined as the movement advocating women's rights on the grounds of political, social and economic equality, it says nothing about losing the ideals behind femininity. Women can be nurturing, yet strong.
The word itself is oftentimes associated with the idea of a man-hating she devil. Some people actually believe that in order to make it in a "man's world," a woman must exude male attributes. This was the idea behind Meryl Streep's character in "The Devil Wears Prada."
Feminism signifies way more than just pop stars in bedazzled body suits telling us to love ourselves. Feminism is more than just singing breakup songs about not needing a man. True feminism allows you to encompass it all.
Instead of highlighting the usual suspects who attract public attention and conquer social influence, I wanted to celebrate the other unique beauties and brains who represent the transition of the Millennial girl to the iconic, powerhouse woman.
Here are nine women who prove feminism comes in all forms:
The CEOs
1. Jessica Alba
Jessica Alba has been known to kick ass in big screen blockbusters, all the while looking annoyingly fierce, fit and flawless. Her natural splendor mixes with her motherly quest to create organic, safe and effective products in order to establish a healthy environment for her cutie pies. This is what prompted her transition to becoming an entrepreneur and innovator.
With The Honest Company brand worth an estimated $1 billion, this modern woman impressively secured her spot on the Forbes Richest Self-Made Women list by simply selling "peace of mind" and catering to the female market. Glamour, guts and gusto drove this maven to become a fearless leading lady.
2. Jessica Simpson
Jessica Simpson may have made us fall for the whole "southern belle" thing, but her boots were made for walking all the way to the bank. We often forget that the sultry Simpson once flourished her vocal talents among a bevy of blonde beauties during the millennium pop scene, simply because she parlayed her music career into tycoon status so effortlessly.
Jessica's fashion empire hauls in about $ 1 billion in annual sales. This is an abnormality in a retail landscape polluted by lifeless celebrity brands. The perfectly scripted Jessica Simpson label is sold in mainstream department stores, and is always guzzled up by the masses. Simpson attributes the success of her assorted designs to the fact that her brand appeals to all types of women.
"I have been every size on the planet, and I understand. I feel like I understand women. I do understand middle America and their mindset," Simpson said at last year's Forbes Annual Power Women's Summit. As one half of the original reality star couple, Jessica's wholesome image, wits, beauty and style trail-blazed through the barrier for "dumb blondes" everywhere.
3. Jennifer Lopez
Jennifer Lopez is perhaps one of the most well-rounded business women of our generation. Her statuesque body has launched 1,000 ships. Well, it at least launched a huge surge in Google traffic. Thanks to the Versace dress heard around the world, we've always been captivated by this goddess's form.
This red carpet chanteuse has commanded the fiery stage since her days as a Fly Girl. She has single-handedly made me fall victim to using words like "slay" to describe her monument. It doesn't matter whether she's an on-screen siren or "Jenny From The Block." Her fashion style is its own entity.
Everyone embraces this multi-talented mother because her drive, ambition and capability as an artist and businesswoman have always overshadowed her seemingly unmatchable glamour. She has countless revenue streams under her belt, including Hollywood actress, headlining dancer and singer, record and television producer, television personality, fashion designer, lifestyle model and restaurant czar, and her Latin heritage has played a huge role in both her identity and limitless accomplishments.
Lopez is the perfect balance of soft pink and diva edge.
The Funny Girls
4. Tina Fey And Amy Poehler
Although these two dynamic women oftentimes get lumped together as one, I choose to rejoice their friendship and support for one another. This comedic dream team holds more than just fame, fortune and followers: They are funny (and by funny, I mean brilliantly hilarious).
Are you sick of the term "women in comedy," or the battle between funny and sexy? Me too. Funny is the new sexy. It's the new strong. It's the new power.
These two amazing women use their wit to bring awareness to ridiculous views through their versatile political satires that shed light on the attitudes, unrealistic expectations and social pressures we use to bulldoze the women who stand for something bigger than themselves. The entertainment industry was in need of their type of estrogen. Fey and Poehler have broken the barriers for funny ladies in all facets of the media.
5. Mindy Kaling
Mindy Kaling has struck a major chord by identifying with the real struggles of everyday women who embrace their criticisms assertively. She excels at writing, directing, producing and comedy. Mindy is a national treasure. She's relatable, and her down-to-earth persona is no match for other starlets.
"I always get asked, 'Where do you get your confidence?' I think people are well-meaning, but it's pretty insulting. Because what it means to me is, 'You, Mindy Kaling, have the trappings of a marginalized person. You're not skinny, you're not white and you're a woman. Why on earth would you feel like you're worth anything?'"
She exemplifies courage and self-worth by redefining our beauty standards. She's noted as a pioneer, as her pitch for "The Mindy Project" came to fruition. Here, she portrays an intellectual, 30-something single doctor. This was not only a huge turning point for women of her cultural background, but she also became the new face for Millennial women everywhere.
Royal Politicking
6. Duchess Kate Middleton
Kate Middleton reigns grace and elegance in the same way the monarchs of the past do. She not only has a major impact on American and British fashion, but her charitable, regal sway respectively landed her on the "100 Most Influential People In The World" list by Time magazine.
Kate leverages her royal duties to garner more media attention to community projects across the globe. She is well aware she's being watched, so why not have more control on where she shifts the focus? Her fascinating headpieces are also both signature and iconic.
While couture designers are begging to be a part of the so-called "Kate Middleton effect" -- which means that anything she wears becomes an instant best-seller -- her modest (yet modern) style will continue to know no bounds as she effortlessly evolves into a queen.
Kate is often photographed repeating outfits. Although this would normally be unheard of in royal circles, the Duchess of Cambridge chooses to ignore her haters. Instead, she concentrates on the things that actually matter: her work and family.
7. Amal Clooney
Amal Clooney attained the unattainable title of Mrs. Clooney. Yet, her resume reads way more impressive accolades than that.
Amal is a London-based, Lebanese-British lawyer, activist and author. She is a barrister at Doughty Street Chambers, and she specializes in international law, criminal law, human rights law and extradition. I'm more proud that Clooney snagged her, rather than the other way around.
Although Clooney may collect all the credit as a lifetime achievement award recipient, Amal's accolades are impossible to overlook. The public obsession with Amal Clooney has been focused on her professional accomplishments, and with good reason. She has represented high-profile clients such as Julian Assange and former Ukrainian Prime Minister Yulia Tymoshenko. She has fought for the Elgin Marbles to be returned to Greece, and she's also worked to free three Al-Jazeera journalists who were imprisoned in Egypt. She's done more in the last 10 years than many lawyers do over the course their entire careers.
With ample dresses, tailored pants and colorful heels galore, Amal Clooney's style reflects her professionalism. She is perfectly polished for every occasion. She is appropriately subtle, sexy and understated. She knows how to let her man shine, but she can't help but shimmer a little brighter.
8. Michelle Obama
America hasn't had such a prominent First Lady of fashion since Jackie O came on the scene. If you type "Michelle Obama style" into Google, 209,000,000 results come up. If you type in "Michelle Obama education," 183,000,000 results come up. This says a lot about our culture and how we categorize even the most highly-accredited women.
Michelle hosted a White House dinner to support mentoring programs for young girls. She encourages them to break the glass ceiling. "Once you see somebody on TV, it looks like it's easy. But the truth is, we only know many of these women once they've become famous, and once they're in the news."
She also advocates for the "Let's Move!" campaign, which tackles issues of childhood obesity and nutrition. She once expressed, "This is one of those issues that has no party. It has no race. It has no socio-economic boundaries. This is about our kids."
Michelle may be a fashion muse, but she is a mother and wife first. She believes that her work-life balance approach contributes to her understanding of the trials and tribulations facing the women of today. When Mrs. Obama steps out of the White House, the world is her runway.
You do not just expect a great outfit and impeccably toned arms. You expect a bonafide style moment. Her presidential positioning is lively and bold, much like the patterns and hues we frequently see her in.
The most amazing aspect and common thread among these women is the fact that none of them are married to their careers or fashion styles. They are married to making a change. They want to relate to and connect with others. They want to inspire happiness for women who believe that they can have it all.
They are here to provoke thought and discussion for women who are seeking guidance in a world that constantly throws feminism back in their faces. Whether you are a stay-at-home mom, have a PhD or lead a room full of male counterparts, how you view your own accomplishments speaks volumes. For these women, their fashion statements are nothing when compared to their professional statements.
That is power. That is feminism.