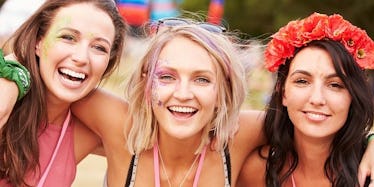 7 Best Labor Day Weekend Getaways To Take With Your Spontaneous Girlfriends
Monkey Business Images/Shutterstock
Labor Day Weekend is quickly approaching, and what better way to celebrate than to get together with your main girls? Having spontaneous girlfriends is a blessing because your plans are never textbook but always turn out to be memorable as hell. Isn't that what life's all about, anyway? It's time to taste the end of this sunny, blissful season. Labor Day Weekend trips are what any woman needs to peacefully let go of the last bit of summer.
Think of your Labor Day Weekend getaway as a physical form of moral support. Summer's not the easiest thing to let go of, and your girls certainly understand that feeling as well. With all of the possibilities out there, it can be hard to determine what location you and your girlfriends should conquer together for your last big hooray. You guys conjure fun wherever you go, so it really just takes you all picking a location and getting out of the door. There's still a little bit of time to get things figured out, and because your girls are so spontaneous, last-minute plans don't intimidate them. You can never go wrong with too many options, so consider taking your group of fearless ladies to one of these fun spots.
1. Life's A Gamble, Right?
Of course Las Vegas is always an option. It's the city that never sleeps, and you and your group of friends can appreciate that. There are so many people that make their way to Las Vegas for Labor Day Weekend, so mingling and making new friends isn't a problem at all for your crew.
2. The Beach Needs You One Last Time
Getting your toes in some sand this Labor Day Weekend will definitely help you part ways with summer. Yes, the beach is always there, but it has a certain beauty to it in the summer. Any beach will do, but heading to Laguna Beach or Malibu are certainly worth exploring. Get ready to soak up those beautiful rays.
3. Make Your Own Mardi Gras
Who needs Mardi Gras as an excuse to go to New Orleans? You and your ladies bring the party to Bourbon Street. You won't even need those beaded necklaces, because you're all gems.
4. You Don't Need A Passport For Wine Country
As much as wine isn't going anywhere, summer is. The vineyards just about anywhere will be perfect weather for you to explore, sip, and repeat all weekend long. Thank you, wine, for always being 100 any season of the year. Hit up wineries all weekend long in the Hamptons or Colorado.
5. Get Adventurous Outdoors
Labor Day Weekend is a time to let loose, so why not try white water rafting? Northern Outdoors Adventure Resort in West Forks, Maine has group rafting that will make for an afternoon of fun. Once your muscles need relaxing, snuggle up near a campfire with some adult beverages.
6. Who Says Camp Is Just For Kids?
The outdoors is where you need to be on Labor Day. There are actually camps for adults where you get to splurge on all the activities you couldn't wait to do when you were a kid. You and your girls can make new friends as you're crafting friendship bracelets and drinking mimosas. Club Getaway in Kent, Connecticut has a bunch of sick water sports for during the day, and a club conveniently on the water for nighttime festivities.
7. A Staycation In Your Favorite City
We can't always go all out financially, but energy-wise, we can. Even if you ladies stay at a nice resort in your favorite city close by, you can still rock it. Ultimately, the group will create a good time. The location is an added bonus. Labor Day Weekend with your girls is almost a guarantee for some epic times. No matter where you all end up, your contagious personalities will make the weekend.