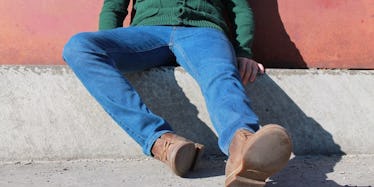 I Wore Jeans Designed For Well-Endowed Men And My Balls Thanked Me For It
Most guys are aware of the hardships that come with shopping for a new pair of jeans. A stylish fit usually comes at the very uncomfortable price of some serious junk constriction.
And if you are a guy who isn't aware of this problem, then you have an even bigger (read: smaller) problem.
Men's bodies, like women's bodies, come in many different shapes and sizes. And these body types aren't always aptly represented by your average retail chain.
For example, to say our very own Connor Toole, a senior humor writer at Elite Daily tall enough to literally fool people into thinking he was a professional NBA basketball player, was thrilled when he found a stylish clothing company that fit his 6'10" frame would be an understatement.
But there is another type of man underrepresented in the mainstream retail industry: the well-endowed man. Or at least he was, until Leo Tropeano and his ball-friendly jeans had something to say about it.
Leo, founder and president of Mugsy Jeans, started a company with a mission: to create a pair of stylish jeans that gave the everyday bro a form-fitting look without him feeling like his balls were in a denim vice.
"It's like your crotch is in a chokehold," Leo tells Elite Daily, describing how, with other jeans, having a stylish fit usually comes at the price of valuable dick space. "That's really where everything came from. Me scratching my own itch."
Mugsy Jeans combine the comfort of a straight leg fit with the style and look of a slim fit by eliminating excess denim, altering the dynamics of the crotch and making the crotch more spacious so that you won't experience that "balls in a vice feeling" you get from so many other uncomfortable jeans.
The spacious crotch is good for all dudes, but the well-endowed especially took to it.
Leo's inability to find a pair of jeans that suited him and his cojones inspired him to develop his own product that didn't sacrifice style for comfort. "I didn't have any fashion background at all," Leo says, recounting the early days of starting his company from his shared NYC studio apartment. "I was just a business major, and I wanted to solve this problem."
After finding a suitable manufacturer, Leo had some prototypes made and took them for a test spin during a night out with his buds. "Sure enough, my friends started noticing, saying 'man, those jeans look awesome, where'd you get them?'" says Leo. "That was the flag in my head that said maybe this really is something."
In May 2014, within the first 24 hours of launching a Kickstarter campaign under the former name "Slimbs," Leo attained the funds he needed (over $17,000) to start fulfilling orders that were flooding in from OG well-endowed fans of his product, as well as interested retail store owners Leo encountered at trade shows.
That summer, I launched, and it was 100 degrees, humid. I was the only idiot wearing jeans around, but I will live, sleep, breathe, do everything in these things. I exclusively wear them.
Leo launched a full supply of raw denim jeans in the beginning of August 2014, and by the end of September, Leo's inventory was nearly emptied, left with only a few oddball sizes. "It was for sure [the company's] biggest milestone," said Leo. "Everything just kind of clicked, and we gained a lot of traction."
Now, rebranding under its current name, Mugsy seeks to not only provide men -- and their balls -- with some relief through their product, but also create a relatable retail culture for guys with cool, down-to-earth style to shop in and enjoy.
All the other brands are just so f*cking boring. If you look at J. Crew and all these other Instagram accounts, it's some ridiculously good-looking model in some ridiculously staged scene. Who relates to that guy?
Rather than hire models for his advertising campaigns, Leo hired his boys and had fun with a light-hearted photo shoot that parodied the try-hardedness of other clothing brands.
"I chose one of my friends for each of the styles of the jeans, and they rocked them."
"We did this ridiculous photo shoot in Lincoln Park, where they sprawled out in evil poses, just mocking those brands and how serious they are."
So having heard all that and having seen Mugsy's campaigns myself, naturally I had to get myself a couple of pairs. And man, am I glad I did.
As you can see, my jeans (middle) bunch up severely near the crotch area. The wash on my jeans has even formed horizontal lines from constant bunching. They hug my thighs a little too tightly (never skip leg day), which gives them a weird, curvy look that I would personally rather not have.
The Mugsy Jeans (left and right), however, were a smooth fit from top to bottom. The denim was evenly distributed from my crotch, to my thighs, right down to my calves. I was able to walk comfortably, and my balls were able to breathe freely.
And sitting down? While normal jeans can make sitting down feel like closing a phone book on your nuts, Mugsy Jeans leave just enough space around the crotch to prevent any sort of discomfort even, yes, when you're sitting at your desk during your nine-to-five.
Mugsy proves men don't have to sacrifice comfort for style when it comes to jeans. Their pants are ultimately the perfect combination of both straight and slim fit jean styles.
I highly recommend you pick up a pair -- if you have the balls to wear them.