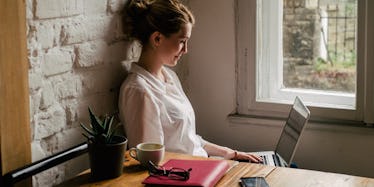 How To Become An Internet Celebrity When You're Broke With No Budget
Stocksy
Have you ever taken a look at models on the runway or celebs on the red carpet and thought to yourself, "That could be me," only to come back to the unfortunate realization that no one but a major celebrity could afford that type of wardrobe?
I used to do the same thing, until someone showed me how to make it all work with limited dollars.
When you know how to market yourself, it makes a world of difference in everything you do.
Here are six tips for building a celebrity-like personal brand on a shoestring budget.
Your personal brand is your greatest asset.
Always consider your brand an asset and guard it like a treasure. Remember you have an image to maintain and an audience to impress.
You should think along these lines when you are building a brand for yourself. If you work in more than one field, you can create separate brands for each line of work and promote them using different strategies, each suited for the job you're looking to land.
Unlike the Lady Gagas of the world, you don't need a marketing team to design your brand identity. You just need to decide what your personal image will represent and put the chips in play.
Remember it will take some time for people to start identifying your brand in the market. This needs continued marketing to the targeted audience.
After a while, people will remember your name. You have achieved in building a brand for your business. By giving your brand the right image, you can achieve high recognition in a short amount of time.
Build an avatar to represent your brand.
When you have an innovative and catchy avatar for your personal brand, you can reach people effortlessly.
They will be able to connect with the concept immediately when you have an interesting character. You will also be able to speak to audiences from all age groups when you use this method. It is very simple to get a simple character from any graphic designer.
It won't cost you much to get one, especially if you go on a site like 99 Designs or Upwork and have someone create one for you. You can probably get it for under $100.
If you do this well, you'll be surprised with the amazing results that it can yield.
Start your own blog and flaunt your swag.
Remember: It does not cost much to build a blog. You can do it yourself using various free tools on the internet.
There's WordPress, Weebly, Blogspot, Squarespace and many others. The main thing is to keep it simple and focus on sharing content that your fans will love.
And what type of content will your audience love? They want to see you, swagging it out! So be sure to add nice images of yourself in fashionable gear. Combine each ensemble with a tablet, laptop or a backpack -- and there you go!
You can even take one of the images and put it on a business card along with your blog URL. You'll really look like a star.
The best part is you can get this done for under $50 on VistaPrint. And since you rarely meet everyday individuals who own self-branded business cards, this strategy will help you stand out immensely.
Don't forget to choose a catchy name for your blog. Forget about names like Diva on a Budget. They went out of style years ago.
In 2017, you'll want something more catchy and edgy. This will force those around you to take notice and respect your game.
Always have a social presence for your brand.
A strong social presence is the easiest way to develop a following. Remember that marketing yourself through social media is the most affordable way to get noticed.
If you can manage to create some viral content, you can even get free publicity and reach millions of people in no time at all.
Another well-tested formula is to maintain healthy relationships with businesses and organizations that share a similar audience with you.
Indeed, if you can identify the right brands, you may be able to offset your wardrobe budget, with a little left over, simply by adding their logos to your blog in exchange for good product and some cash.
Get the right logo to represent your brand.
Did you know that some fonts are considered masculine, while some other are considered feminine? In this regard, do some research while choosing fonts for your brand.
Choose a font that suits the theme of your business. It's also important to get the logo designed by an expert, which you can do on Fiverr for, well... 5 bucks.
Looking good doesn't need to cost you much money. It's all about the authority you can exude while growing your personal brand.
Review fashion products and spend less.
You can spend less money on clothes and other fashion accessories by developing a reputation as a clothing reviewer. This will keep your audience coming back to see what you have to say next.
It will also motivate fashion brands to share their products with you so you can offer an honest critique, thereby giving them exposure on your social profiles.
You now know how to build a personal brand to rival the celebrities without breaking the bank. Now it's up to you to make it happen.