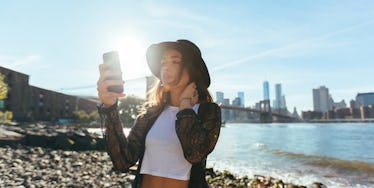 A World Without 'Likes': Why Instagram Should Remove This Feature
It's Friday night. Your outfit is killer; you're having a great hair day, and the lighting in your bathroom seems extra flattering at the moment.
You decide to take a selfie to share with the Instagram world, but right before you post the photo, you stop and think, "What if I don't get many 'likes' on this?"
It's commonly known that we live in a world dominated by social media.
If you're at a bar surrounded by all your friends, you're going to take a video and add it to your Snapchat Story. If you're feeling #blessed, your Twitter followers definitely will know about it.
And if you took an amazing sunset picture from your summer vacation, you know you will post it to Instagram. Or, maybe you won't because you already posted a picture of your breakfast a few hours prior.
It may be safe to assume people want their photos to be "liked," but how far will they go?
Apps like 5000 Likes Pro are offered on iTunes where users can buy "likes" or "like" strangers' photos with a guarantee they will get "likes" in return.
The Huffington Post even wrote an article with tips on how to get more "likes" and followers, such as "don't be boring," and recommending to upload pictures with more "cool, earthy tones."
Well, what happens if you do get a lot of "likes?" Perhaps, you will get more followers, end up one of the "Top Posts" on the "Explore" tab or maybe even become Instagram famous (which, sadly, is a thing now).
However, think about what a "like" really is: It's a way someone shows approval or gives praise. It's essentially saying "YAS" in a quick, double tap. Therefore, no one wants to post a picture, only to see that out of all 400 followers, only 15 expressed interest.
So here comes the million-dollar question: What would happen if there wasn't a "like" option at all?
It may be hard to imagine posting a photo without worrying if it's "prime liking hour," if your caption is witty enough or if it makes you look like you are having the time of your life.
Without "likes," maybe people would feel more free to post what they want, rather than what they think people want to see. Moreover, posting what you think people want to see can add extra stress and pressure to live a more exciting lifestyle.
Removing the "like" feature would also remove the "social hierarchy" that comes with social networks like Instagram. "Likes" and followers tend to rate our lives like Abby Lee Miller and her weekly pyramid of dancers. WE CAN'T ALL BE MADDIE, OKAY?!
Want to post a selfie, but are overthinking the Taylor Swift lyric caption? Post it anyway. Without the option of "liking" photos, your photos aren't applauded any more than Taylor's herself.
Have you ever been to a museum that takes a poll to see what paintings visitors like the best?
Most likely, you haven't because every painting is a form of art and a reflection of the artist's life that isn't comparable to anyone else. Instagram photos are a reflection of our lives, and no one should need a "like" to be reminded his or her life is brilliant.
Unfortunately, there is no news of Instagram removing this feature anytime soon.
However, it's never a bad idea to slowly stop caring about those pesky numbers at the bottom of your photo. Allowing a social network to determine your opinion of yourself and your life is damaging to your own happiness.
So, capture your favorite moments and share them with the world without hesitation.
The only "like" you need is your own.