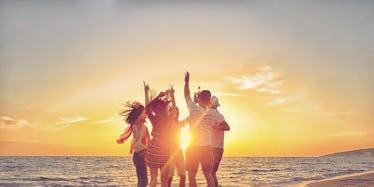 20 Instagram Captions For Every Ocean Child's Sad AF End Of Summer Pics
FS Stock/ Shuttershock
And just like that, summer is starting to come to a close... and you're not at all ready to take your toes out of the warm sand. I mean, it's very understandable. Some people anticipate summer because there's so much to do and beautiful places to travel. If you spent most of the season on the beach, the sad end of summer feels are hitting you pretty hard.
A picture is worth a thousand words, and chances are, you didn't pass up any beautiful shot of the summer scenery. There's something sad and magical about capturing the last parts of summer. We appreciate the cyclical nature of the earth and its seasons, but not at the expense of our fun and enjoyment. That's OK, though, because there's always next year, right?
For those of you interpreting the waves of the ocean as a literal gesture of goodbye, try pairing some of these captions to your "farewell, summer" pics.
1. "Goodbyes are only for those who love with their eyes. Because for those who love with heart and soul there is no such thing as separation." -- Rumi
2. "If you're brave enough to say goodbye, life will reward you with a new hello." -- Paulo Coelho
3. "The sea, once it casts its spell, holds one in its net of wonder forever." -- Jacques Yves Cousteau
4. "Because there's nothing more beautiful than the way the ocean refuses to stop kissing the shoreline, no matter how many times it's sent away. " -- Sarah Kay
5. "For whatever we lose (like a you or a me) it's always ourselves we find in the sea." -- E.E. Cummings
6. "At the beach, life is different. Time doesn't move hour to hour but mood to moment. We live by the currents, plan by the tides, and follow the sun." -- Unknown
7. "The waves of the sea help me get back to me." -- Jill Davis
8. "Saying goodbye doesn't mean anything. It's the time we spent together that matters, not how we left it." -- Trey Parker
9. "We only part to meet again." -- John Gay
10. "The reason it hurts so much to separate is because our souls are connected." -- Nicholas Sparks
11. "Where's the 'good' in 'goodbye?'" -- The Script
12. "This is not a goodbye, my darling, this is a thank you." -- Nicholas Sparks
13. "As the ocean is never full of water, so is the heart never full of love." -- Unknown
14. "Eternity begins and ends with the ocean's tides." -- Unknown
15. "To go out with the setting sun on an empty beach is to truly embrace your solitude." -- Jeanne Moreau
16. "And so castles made of sand, fall in the sea, eventually." -- Jimi Hendrix
17. "Our memories of the ocean will linger on, long after our footprints in the sand are gone." -- Unknown
18. "Everything good, everything magical happens between the months of June and August." -- Jenny Han, The Summer I Turned Pretty
19. "Summertime is always the best of what might be." -- Charles Bowden
20."I can't remember all the times I tried to tell my myself to hold on to these moments as they pass." -- Counting Crows