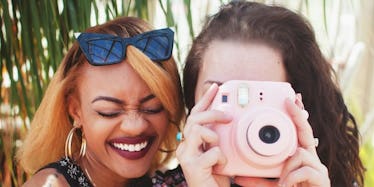 15 Perfect Instagram Captions For Your BFF Posts This Summer
Chelsea Victoria
Sun's out and summer's around the corner, so of course that means a little vacation time with your bestie will happen sooner than later.
Whether you're planning the ultimate girls' trip or just visiting each other's places more often, the perfect Instagram shot is the way to mark the moment you two finally link up and turn summer into a movie.
You won't always need a filter because, well, the beach is already pretty lit and who wants to edit the rawness of a dim rooftop party?
No matter what though, that caption has to be on point. "I haven't seen my bestie in a year and some change and we both finally had PTO so we're turning up every night for four nights straight," isn't exactly the smoothest read.
So this summer, mark your moments with these sweet captions that show the entire world (okay, just your 950 followers) exactly what your BFF means to you.
1. "You and me will never part." — Ceily & Nettie, The Color Purple
2. "Lots of people want to ride with you in the limo, but what you want is someone who will take the bus with you when the limo breaks down." — Oprah
3. "You can't sit with us."— Karen Smith & Gretchen Weiner, Mean Girls
4. "The laws of the world never stopped us once. 'Cause together we got plenty super power." — Super Power, Beyoncé.
5. "Life is an awful, ugly place to not have a best friend." — Someone Like You, Author Sarah Dessen
6. "As we grow up we realize it becomes less important to have a ton of friends and more important to have real ones." — Ziad K. Abdelnour
7. "I live for the nights that I can't remember, with the people that I won't forget." — "Show Me A Good Time," Drake
8."We'll be the old ladies causing trouble in the nursing homes." — Unknown
9. "If you are lucky enough to find a weirdo, never let them go."— Unknown
10. "My best friends are like fairy tales. They've been there since once upon a time and will be there after." — Unknown
11. "Friends are the siblings God never gave us." — Mencius
12. "One of the things you can give and will not cost you any money = friendship." — Catherine Pulsifer
13. "Not sisters by blood, but sisters by heart." — Unknown
14. "Friends... they cherish one another's hopes. They are kind to one another's dreams." — Thoreau
15. "It's the friends you can call up at 4 a.m. that matter." — Marlene Dietrich