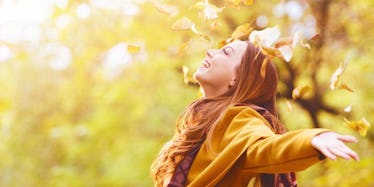 I Love Fall, The PSL Is My Spirit Animal, And I Don't Care Who Knows It
Tijana/Fotolia
Don't get me wrong, summer is great and all. The long days are so nice and relaxing, and it's the perfect time for a sunny beach trip. I love being outside in the warmth and having a break from school as much as the next person, but I wont deny it: I really love fall.
There's something about sweater weather that longingly calls my name as the summer comes to a close. It's pretty difficult to deny the crisp breeze and a wardrobe filled with leather jackets and beanies that has a hold on me like no other.
Maybe I'm biased because I was born in the autumn, but fall is by far my favorite time of year. I love fall so much that it's practically a holiday; I decorate, make seasonal foods, go on fall-themed trips and adventures, and have a few Pinterest boards dedicated to my favorite season.
Anyone who knows me knows how much I love autumn. Lots of my friends celebrate fall with me and look forward to the annual release of the Pumpkin Spice Latte just like I do. Real talk: I'm the first chick in line on the release day, because, obviously.
People may think my love for fall is excessive and totally basic, but to be quite honest, IDGAF.
If posting my PSL on Instagram and wearing flannels with leggings is basic, then I'm as basic as it gets. I will wear this label proudly as I Snapchat my boots crunching over every leaf I find on the ground. I will be basic and love fall without shame.
Obsessing over autumn isn't much different than counting down toward a holiday. There are those who wait all year for Christmas, others who look forward to their birthday, and some who just long for summer vacation... and then there's me who wishes it could be autumn year round. When you think about it, it's not that different at all.
I don't necessarily count down the days until the autumnal equinox, but from August forward I keep my eyes open for the first signs of fall. When the first few leaves dry up and drop from the trees, or when the nights start to have that unmistakable chill, I know it's about time to unpack the box of scarves and coats that sits at the top of my closet all summer long. Damn does it feel good.
In the autumn, my wardrobe is warm and comfy. You can find me in yoga pants and an oversized top on most days. I own more pairs of boots than is considered normal, but I wouldn't have it any other way. Whether I'm in my Uggs or rain boots, I can guarantee my feet are comfy and warm; they're in their happy place.
While my boots are warming my feet, a Pumpkin Spice Latte will be warming my soul.
From the day they're released in stores, I'll be enjoying PSLs daily until the pumpkin spice syrup practically flows through my veins. It's hard to think of anything I'd rather do than drink a caffeinated, liquified pumpkin pie.
While others will be too busy missing summer, I'll be taking in every last autumn moment. Before fall even hits, I'll be looking forward to the warm colors and the chill in the air. I'll be ready to accept it when it comes, instead of staying huddled up inside wishing it were warmer.
I'll be outside with my dog getting our daily walk in, rain or shine. You'll be super jealous of our matching sweaters and rain boots, but we'll happily forward you the link on Pinterest. My BFF -- best furry friend -- and I are the most fashionable duo when the weather gets colder.
As Halloween approaches, you know I'll be on my game. Costume shopping is serious business that takes up a little too much of my time, but I always have the most thought-out attire, so it's totally worth it. No matter how old I get, I'll always be down to help you pick out the perfect pumpkin (there's specific criteria, it's really not an easy task) or decorate my home for the spookiest night of the year.
My favorite part about fall is that I can take it with me wherever I go. Not only can I pick up a PSL at any Starbucks, but I can utilize autumn's fiery colors in all aspects of my life. My nails will be painted, my phone background will change, and everything around me will possess that cozy fall aesthetic... just how I like it.
When the autumn comes, you can find me outside in the pumpkin patch or somewhere in the depths of a corn maze. I'll be soaking in every last hour of golden sunlight and bundling up against the nightly chill. I'll be taking part in fall activities, loving every minute of it, and IDGAF what anyone has to say about it.