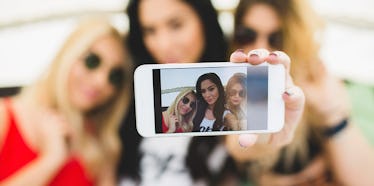 How To Kill It On Instagram Like A Teen
Jovana Rikalo
If I'm being honest with you, my Insta game is pretty average. I sporadically post pictures I like of myself with my friends and family, slap on a filter, add a funny caption and that's that. My Instagram "presence" has never been a huge concern of mine.
But I've recently decided to spruce up my profile. I mean, people LOVE Instagramming. They're all about that 'gram. So why shouldn't I try to get in on the hype?
Minor problem: I have no idea what the f*ck I am doing on there. I needed some help.
And who better to go to for some loving guidance than my 15-year-old cousin, Sophia?
I'm not sure if any of you follow anyone below the age of 18 on Instagram, but if you do, you know what I'm talking about. Teens like Sophia RUN the Insta game. They get, like, eight million likes per picture, and all of their pictures get posted with filters that I'm pretty sure don't even come with Instagram.
I'll stare at Sophia's posts for hours just being like, WHAT KIND OF MAGIC ARE YOU UP TO?
Sophia can be described in one word: "sassy." Still, when I was visiting home in California last week, she was kind enough to give me some pointers on how to Instagram like a teen and maybe save myself from being a total pathetic loser on social media. I haven't really spent quality time with Sophia in a year or so, and in the time since I last saw her, she has apparently become very chic and worldly.
We both (and by "we both," I mean "she and my parents") live in a suburb outside of San Francisco, so I was expecting her to just have me come over to her house for a quick lesson. Maybe we'd spice things up and go to the local In-N-Out.
No, this new cool, ultra-chic Sophia picked one of the trendiest sushi restaurants in the city and asked me to meet her there for dinner on Friday.
She played it so cool. I'm not gonna lie, you guys: I was nervous. I spent the whole day at my grandma's house that Friday nervously checking my phone every few minutes for a confirmation text as if she were a boy I had been crushing on for years. Finally, my grandma kindly reminded me that I was dealing with a 15-year-old girl that I'm related to, and I mustered up the courage to call her.
But GRANDMA. I don't want her to think I'm lame. 
Sophia picked up the phone and confirmed our dinner plans. It was go time, baby. Time to learn how to be a cool teen on Instagram.
Sophia showed up to dinner (and by "showed up," I mean that I picked her up from her aunt's apartment in the city) in a pair of ripped jeans, a light sweater and an adorable leather jacket. As we chatted about life and her recent discovery that she was over trying to fit in with the "popular" girls who hated each other anyway, I realized my suspicions were correct: Sophia had become very cool. I had picked the perfect instructor.
So, here we go. Here are Sophia's five pillars on how to be a cool teen on Instagram.
1. The 100-like minimum
Before we even started our "interview," Sophia had some questions for me.
"What kind of article is this? I've been interviewed before, and this doesn't really feel like a formal interview," she said. I explained to her that I work for a pretty ~informal~ publication, and this article didn't have to be stuffy. (I did not ask what kinds of publications are interviewing her on the reg.)
I explained that we would just be having a casual conversation about how to be cool on Instagram, like she is.
She looked at me, confused, and said, "But I only get like a hundred likes per picture…"
OK, so lesson one: Apparently, you have to be getting more than 100 likes to be considered cool on Instagram. I average about 80 likes a picture and, TBH, I'm happy to get that many. I am realizing that maybe I'm a loser in teen world.
Here's my most-liked Instagram post of all time, weighing in at 124 likes:
I had to put on a f*cking sumo suit to just barely meet Sophia's minimum requirements.
2. White borders
When I scrolled through Sophia's profile, I couldn't help but notice that the aesthetic of her profile looked different. So I asked her what was up.
"Soph, what do you use to make your posts look cooler? Yours always look so different." "Yeah," she said. "I use this app called Instasquare." Instasquare reframes your pics into a clean white border. "I only have one picture that doesn't have the white border, and it drives me crazy." "Why the white border?" "It just gives my profile a cleaner look."
Honestly, scrolling through her pictures, she has a point. Everything looks nice, clean and orderly. Every single picture is framed perfectly as a square highlighted by the crisp white frame. I don't blame her for being annoyed at that one picture without a white frame.
I would also like to mention that when I asked her if I can write that "The white borders really make the pictures pop," she said, "No offense, but that makes you sound really stupid."
Let's take a look at my feed:
As you can see, I have no cohesive "aesthetic" for my profile. Imagine if I had all those bad boys framed perfectly with the same crisp white backdrop. YEAH, IT WOULD LOOK GOOD. TEEN GOOD.
3. #NoFilter
I had scrolled through Sophia's feed before meeting up with her and noticed that she didn't use the filters, so I was almost too embarrassed to ask about them. I personally utilize Instagram's filters for my own posts all the time. The filters are half the fun of Instagramming! Look how sun-kissed my nephew and I look in that top right picture! It wasn't actually THAT sunny; I just chose a bomb-ass filter.
But I had to be thorough in my journalism, so I asked if she uses any of the filters already on Instagram. And she literally scoffed at me, you guys.
So please note: FILTERS ARE REALLY NOT COOL.
When I asked her why filters are so bad, she explained:
"Filters completely manipulate the picture. Instagram is all about capturing the moment. You shouldn't have to manipulate it."
So  ~deep~.
4. Group pictures
OK, so what SHOULD we be Instagramming? Here's your answer straight from the source:
"I try to post photos of my friends and family. Plus, I like to make sure I'm in the photos because I find it weird just taking photos of random people and putting them on my Instagram."
Look at this picture. Her squad is on FLEEKY.
Now, I already upload group pictures. Holler at me for being one step closer to being cool on Insta. Except my squad is my dad and my nephew. So.
5. No #selfies
Above all else, Sophia warns:
"Try to avoid selfies. They're really mainstream."
I've never been a big selfie person, so I was ahead of the game on that piece of advice.
So basically, what I'm taking away from this is that I have some REAL potential at being a cool Instagram teen. I post group pics, I don't post selfies, and I have managed to get over 100 likes before.
I'm thinking the trick to consistently getting those 100+ likes is to ditch the filters and get InstaSquare. I'll try it out and keep you guys posted.
Overall, this whole experiment was a rude awakening. I like to think of myself as a young and technologically savvy person. This entire experience showed me how OLD and LAME I actually might be.
And let's be honest, it's only going to get worse. Twenty years from now, I probably won't even know enough about the latest technology to be bad at it.