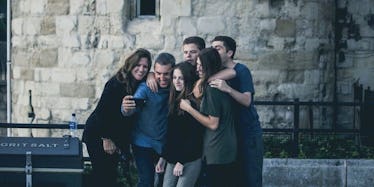 10 Fun Ways To Bond With Your Family In Your 20s That Won't Feel Forced
While you're figuring out how to stay afloat and live it up in your 20s, you're also trying to navigate a new relationship with your family that doesn't feel forced.
Now is an ultimate time to create special memories with your family that don't make you feel like you want to rip your hair out after spending time with them.
To be honest, it takes hard work and determination to figure out the transition between being seen as the family kid to the family kid who has their sh*t together.
If you're in need of a little push to up the bonding time, here are 10 fun ways to spend some quality time with your family in your 20s.
1. Hit Up The Beach Or The Slopes
Put your heads together and plan an exciting trip to a destination the whole family will enjoy. A family vacation can be a tad expensive, but the laughs and memories you'll make are seriously priceless.
Pack up the car and head to the beach, or get your skis ready to shred up the slopes. Don't forget the camera!
2. Cook A Special Meal Together
Cooking a real meal together will be a laugh, especially if none of you are stellar cooks. If you do love to cook, choose a traditional family recipe to whip up.
Get all of the goods ready and show off your awesome chef skills in the kitchen.
3. Crush Some Great Beers At A Brewery
If everyone's over 21, why not spend the afternoon at a local winery or brewery?
You'll all have a great time chilling out, playing some games, and soaking up the beautiful scenery... just go easy on the drinks around mom and dad.
4. Take Them On A Tour Around Your Town
If they're visiting you, take some time to show them around your favorites parts of the city: the best taco joint, the place you retreat to for the best views, and even the wine bar you hit up every #WineWednesday.
5. Do Your Share
Bonding goes a long way in your 20s when your parents feel like you're actually an adult.
Show them you are one by holding your own weight. If you're home for the weekend, do your own laundry, or *attempt* to pick up the bill once in awhile.
6. Take A Trip Down Memory Lane
Relive your childhood (tantrums and all) with some hilarious home movies and beautiful old photographs. The nostalgia will most likely have everyone feeling so much closer.
7. Share Your Favorite Music
Show the family some of your favorite music, and let them do the same. Who knows? Your shared taste might lead to a few awesome concerts in the near future.
8. Go On A Unique Day Trip
Try visiting places you've never been before, whether that be a botanical garden, a hidden beach town, or a scenic hiking trail a few cities over.
9. Sign Up For A Cooking Class
Why not learn to make something new and downright delicious? This one will be a ton of fun with the fam, and the best part is, you get to enjoy your masterpiece afterwards.
10. Take Them Out To The Ball Game
A day at a baseball or football game representing your favorite team is always a day well spent.