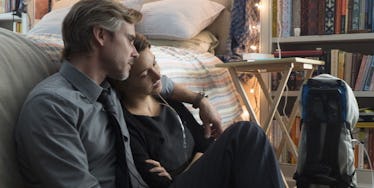 How Losing My Health At Age 23 Inspired A New Version Of Myself
Fox 2000 PIctures
To say I am starting to fall in love with my chronic illness would be a little too much, right? Possibly.
For the past 10 months, I have been on a journey of self-love and discovery. I have worked to reclaim the health that, unfortunately, we Millennials undoubtedly take for granted.
I was happy with my life, pre-diagnosis. I was young, graduating from college and living with the love of my life. I was about to start an internship and would soon be walking the stage at graduation; I could feel myself becoming the successful businesswoman I'd always envisioned.
It's hard to describe the feeling when all the components of your life, all the little things that make up who you are, slowly get taken away.
I lost my health one seemingly uneventful Sunday morning when I woke up with an autoimmune disease. I won't get into the countless doctors and hospital visits, but, eventually, I was told I would be a chronic-pain patient for the rest of my life and was sent home with a handful of prescriptions.
I'd like to say I took my diagnosis in stride, accepted it and moved on, but I definitely took the depressing, self-destructive road for a while.
I was frustrated and mad this had happened to me; I was 23 years old and felt like I had been handed my death sentence.
My chronic pain caused me to lose my job, my internship and eventually drop out of college. There I was, the sick girl who had lost everything she loved about herself in a matter of days.
So, how could I possibly be in love with a diagnosis that ripped apart my life? I've learned to be a more compassionate human being, to enjoy my life and not stress about silly details.
I'm currently at the point in my health where I am not taking any medications; I am living a happy life and slowly starting to heal from a disease I was "going to have forever."
If I could go back and make some changes in my life, I wouldn't hesitate. Once you lose your health, you realize it is the most important thing in this world. You are given one body and you have to treat it well, or you will eventually regret it.
From the year I've had struggling to regain my own health, if I could give advice to any young person, it would be the following:
Drink less alcohol.
Difficult, I know. It's social and fun, and sometimes, it just feels great to be drunk and out with friends.
The hangover breakfast the next day is greasy and amazing, and the stories are even better. However, alcohol can cause so many problems later in life with your liver or kidneys, and you can save yourself from a lot of health issues by choosing to detox every once in a while.
Be mindful of the food you eat.
I'm not saying you have to eat salad every day, but the fast-food dinners and the candy, chocolate and overload of processed food will catch up with you in one way or another.
Eating healthy and unprocessed whole foods makes you feel great and look great, as well, which is what we all really want, isn't it?
So put down the consecutive cheeseburgers and opt for the salmon and veggie dish instead.
Get outside and be active.
We go to school; we get jobs; we work, and we forget how amazing it is to live an active lifestyle.
No matter what exercise it is, get outside and enjoy the feeling of being alive. Your body was designed to move, so get out for a run or go to a yoga class or two.
Physical activity can help your body and mind in ways you wouldn't even realize.
Practice some self-love.
Not the kind you're thinking about. I'm talking about enjoying the simplicity of reading a meaningful book, or taking the time to make and enjoy a gorgeous and healthy meal. It's not selfish to do this, either; it's a necessity.
Our society has become so fast-paced, we forget to stop and love the most important person in our lives: ourselves.
It's so easy to get wrapped up in our daily lives and not be mindful of what we are doing to damage our bodies.
Take care of yourself because it's a tough lesson to lose your health at a young age, which, unfortunately, is becoming a pattern in our society. Love your body and it will love you back, plain and simple.