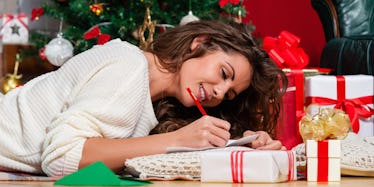 The Pros And Cons Of Finally Celebrating Christmas On Your Own
Shutterstock
As we mature into our 20s and make moves across the country, some traditions seem to fall flat.
Our once fun-filled family festivities aren't the same in our tiny, one-bedroom apartments, and the longing for our grandmothers' cookies only make us ache that much more to be home.
As the memories of Christmas as children flutter in our minds, we swear we'd do anything to be 10 again.
But as we grow into adulthood, the word "holiday" starts to take on new meaning:
Pro: There's no need to stress about presents.
The great thing about your first Christmas on your own is people don't really expect much from you, and they know you're poor because of your crappy entry-level job.
Any member of the family will be happy with just a card of you and your cat wearing a Santa hat.
Con: Santa starts skipping your place.
Unfortunately, we make decisions that aren't always appropriate, which is why our once untarnished name starts showing up on Santa's naughty list.
Incidents such as throwing back one too many candy cane shots at your office's Christmas party and setting your dog's crap on fire in front of your ex's door won't get you anywhere close to the Nice List.
Pro: SantaCon happens.
It was great being younger and thinking a big, fat, jolly man really came through the chimney and ate all of the cookies we set out for him.
But now that we know the truth, it's time to cherish his memory by dressing up as the jolly man himself and drinking a lot of liquor.
Con: There's no Santa.
We all had our hearts broken when we learned the truth about someone we've worshipped over the years.
The words normally come from some Grinch who breaks the bad news to us there's no Santa.
We don't want to believe it, so naturally, we just blame our parents.
Pro: Mom and Dad still care.
Even when you're miles and miles away, your parents still find a way to make you feel included.
It's so exciting getting a card in the mail and deciding what you'll do with the cash inside (only to find a $50 gift card to the grocery store down the street).
Con: You're still poor.
Embracing the holidays can be hard when it seems as though you're drowning in student debt.
Every time you hear your phone ring, you expect it to be relatives calling to say they'll be sending money for Christmas.
But most of the time, it's Sallie Mae calling yet again to remind you of your upcoming payment.
Pro: There are no awkward family conversations.
This is the one time of year people get to ask questions they've wondered all year.
"What have you done with your degree?"
"Do you have a boyfriend yet?"
"Are you still wearing your retainer at night?"
They're all valid questions, but they're ones I'd rather not discuss.
Even though there's nothing better than family, sometimes, it's better to leave them wondering.
Con: Decorations Are Expensive
Part of living on your own and becoming an adult starts with acting like one, which is why spreading the holiday cheer is important.
The only problem is trees are expensive, and decorations interrupt Netflix.
So sometimes, you have to improvise.
You may have to decorate your cactus as your Christmas tree and use leftover Halloween decorations to make the place look festive.
Celebrating your first holiday alone can be depressing and hard, but it's important to enjoy the years of nontraditional Christmas while you still can.
Before you know it, you'll have even less money, be even more miserable and wish you were enjoying a drink by your Halloween-decorated cactus.