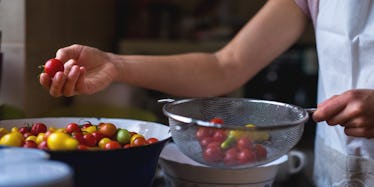 5 Foods That Taste Like Your Holiday Favorites, But Have Half The Calories
Christmas time has officially arrived. And with it comes every holiday meal, dessert and drink imaginable.
I'd be lying if I said I didn't enjoy those white-chocolate-covered Oreos calling out to me at Target, those peppermint mochas offered at nearly every coffee shop or even those comfort food dishes my family and friends insist on making throughout the holiday season.
However, the aftermath of these holiday treats and meals always seem to get my spirits down. Breakouts, bloating and weight gain are ever too swift to follow up the fleeting pleasures of indulging in these holiday delicacies.
Rather than abolishing all holiday treats and foods entirely in an effort to stay healthy, I've searched out healthy seasonal foods that still bring out the delicious flavors of our holiday favorites... without packing on the pounds.
This all-natural, gluten-free, probiotic yogurt comes in flavors such as pumpkin, salted caramel, tart cherry, strawberry rhubarb and my favorite, vanilla.
This rich, creamy yogurt is a great alternative to holiday ice cream, pies and blended drinks. In fact, it's so thick and tasty, you'll hardly even notice you're eating yogurt instead of ice cream.
It's also low in calories, and loaded with the many essential vitamins we need every day.
I never really cared too much about Clif bars until I tasted their seasonal flavors. With options like Pumpkin Spice, Hot Chocolate and Spiced Gingerbread, I'm officially addicted.
I eat one of these in the morning or afternoon to have energy for hours. As a young teacher, I need all the energy I can get.
In fact, even my elementary school students notice a difference in my energy levels when I eat a Clif bar. These bars are loaded with protein and nutrients... unlike the holiday cookies and cupcakes that seem to call out to me from the break room across the hall.
3. Raspberry And Dark Chocolate Popcorn
Smartfood Indulgences has created the most delicious seasonal snack, made completely with whole grains. There are no artificial colors or flavors.
This delicious flavored popcorn is a blissful combination of ripe raspberry and creamy dark chocolate drizzled over kettle corn.
It's my go-to guilt-free dessert, and a great alternative to the caramel-covered popcorn that tempts me every holiday season.
I don't know about you, but mashed potatoes is my favorite part of holiday meals. However, mashed potatoes are typically loaded with salt and heaps of butter, therefore causing my pants to become a little too tight by the end of the holiday season.
This healthy, delicious tofu and cauliflower mash recipe uses House Foods organic tofu and cauliflower, and calls for only one potato. This makes the dish super easy, and you can bring it to all your holiday gatherings.
The tofu is made from American-grown soybeans, and is both vegan and vegetarian-friendly.
These shirataki noodles are a tasty substitute for classic flour or wheat noodles. These noodles are low-carb and filled with protein and vitamins. They contain only 10 calories per serving.
These vegan-friendly, wheat-free, gluten-free noodles can be purchased in most shapes, including angel hair, fettuccine and macaroni.
Use them in spaghetti, pasta salad or your other favorite noodle-filled dish for a low-calorie meal. As I come from a family with a deep love for Italian food, this alternative allows me to cook all my favorite pasta dishes without feeling bloated or lethargic after eating.
The holidays don't have to weigh you down. Whether you're whipping up a meal or searching for a seasonal snack, these delicious foods will be sure to satisfy your holiday cravings.