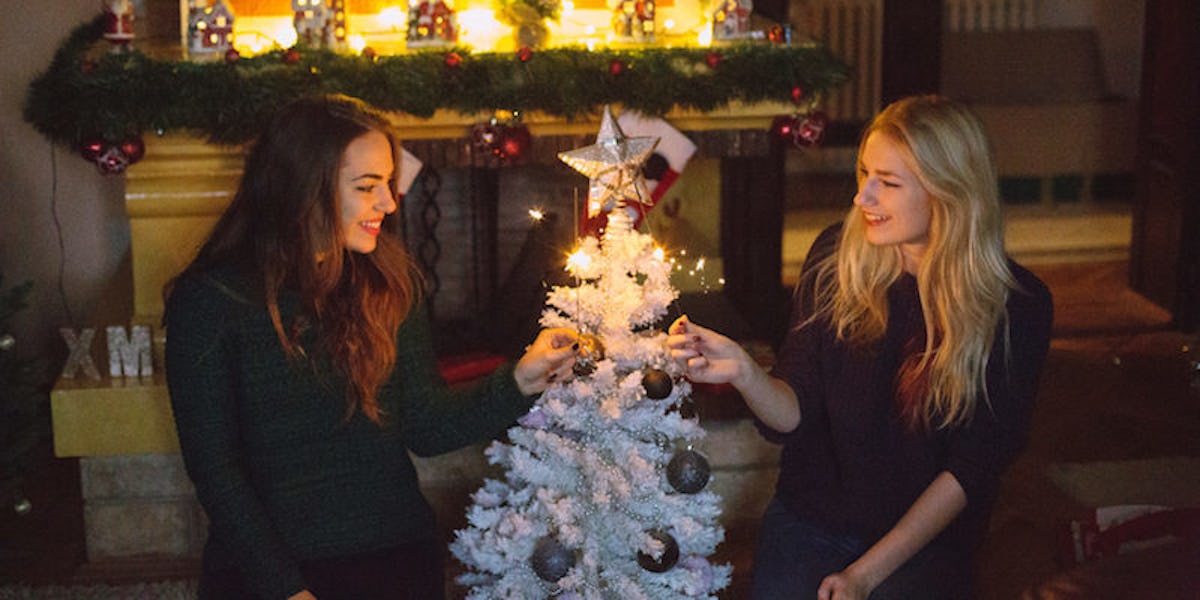 17 Ways To Make Your Holiday F*cking Awesome Without A Boyfriend
Even when being single is the right choice for you at a specific time in your life, it can still make you feel awkward or lonely during the holiday season.
From family gatherings and holiday engagements to romantic movies and mistletoe, 'tis the season to feel stressed and displaced if you don't stay focused on coming up with a good game plan to get through the holidays solo.
This is the first holiday season I've been single in a long time, so I've put together a bucket list for all of my single ladies out there to make this entire month awesome.
After you remind yourself of the many spectacular, really important things you may have to be thankful for (health, a job, a roof over your head, family and friends…) kick back and consider your options:
1. Think of a f*cking insane story to tell anyone who needs an explanation as to why you're single.
It'll be a win-win situation: It's entertaining for you, and it gives them something to sh*t their pants about.
2. Make a playlist full of unromantic Christmas songs.
Mariah Carey's "All I Want For Christmas Is You" = DEATH.
"Alvin And The Chipmunks" = your new best friends.
3. Treat yo'self to a special holiday gift.
Honestly, though, who deserves it more?
This holiday season can be about YOU, yourself and that extremely ridiculous, extravagant gift you've always wanted to buy but never had a reason to.
4. Sit back and observe how nauseating couples in love can be.
That is, instead of being that annoying couple.
It's kind of comical (and eye-opening) to watch love from the single side. And yes, it's sometimes outright nauseating.
5. Drink as much eggnog and hot chocolate as you want because you DGAF.
Piling on those extra marshmallows will feel so rewarding in the moment.
After the holidays are over, you can re-locate your residency to the gym.
6. Rock your Victoria's Secret Long Jane Pajamas as many nights as you'd like.
Warm, cozy and just plain old feel-good PJs = one of the benefits of being single.
7. Watch as many chick flicks as you want.
With a bottle of Pinot as your date and rocking your Long Jane PJs, of course.
Soak up how good it can feel to have no one fighting for the remote.
8. Avoid the Hallmark aisle at all costs.
It's a whole lot of cheesy anyway!
9. Make a ton of spontaneous, last-minute plans.
Because you can! Live. It. Up.
Do as many crazy things that you like to do -- without any restrictions, baggage or strings attached.
10. Spend as many nights as you want baking as many cookies as you want.
…And eat them all!
11. Take the cutest holiday pics… with your pets.
Honestly, will you ever have more cuddly, loyal, cuter companions than your pups? Well, certainly not as hairy.
And they never bark over taking lots of pics with you.
12. Get crafting.
Hit up a craft store with all of the Pinterest decorations you've been compiling on your holiday-inspired boards.
13. Steer clear of the romantic movies on the Hallmark channel.
That couple ice-skating across your screen that casually gets caught underneath the mistletoe and lives happily ever after every damn time. NOPE.
14. Enjoy "you" time, because it won't last forever.
Relax and be satisfied in knowing you have time for yourself.
Sign up for extra yoga and spin classes, drink endless bottles of wine at "Paint Night" with your main ladies, invest in a few fun holiday cooking classes… whatever floats your boat. Appreciate what you have now because many of your friends -- and probably you! -- will be married parents and scrambling for free time.
15. Host a cookie and wine swap at your apartment with friends.
It's festive, so much fun and another perfect excuse to drink more wine and eat more cookies.
16. Do New Year's Eve with your friends.
What's better than ringing in the New Year surrounded by your squad?
17. Remind yourself that you are single because it's your time to be single.
This is not a death sentence; it's a part of your life when you're meant to explore.
Having a special someone can definitely be awesome, but being single does not have to totally suck. Focus on your priorities and just have fun. Now you're able to do all of the things you won't do -- or won't want to do -- when you're in a relationship.
When it's the right time in your life to commit to a special someone, you will have no regrets. For now, put on your cozy Long Janes and grab the remote and cookies. Then enjoy a kick-a** holiday!